One of the many things I like about Manteo is the fact that as you're driving along the main road through town (seeing hotels, churches, gas stations, and stores on all sides), suddenly you come upon scenery like this.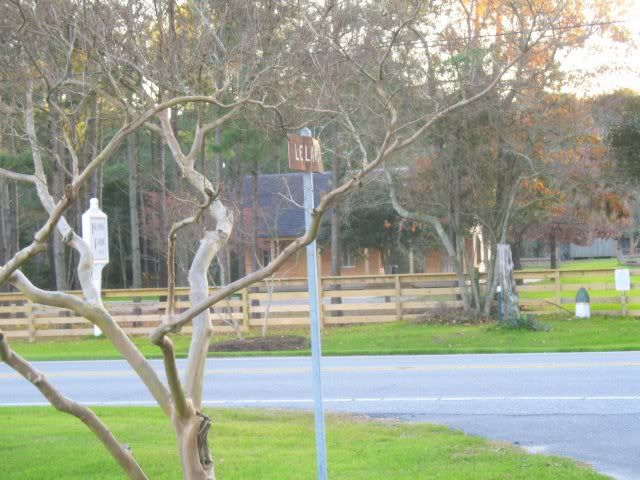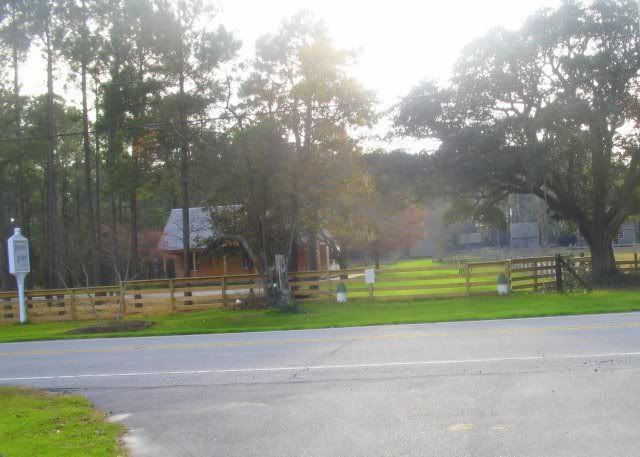 Now let me just reiterate that these pictures were not taken out on some distant country road. They are right smack dab in the middle of the main drag through town. The first time we drove through Manteo and I saw all that natural beauty I just knew Manteo had to be a special town.

And it is!

Today, life in the lovely town of Manteo will consist of home schooling followed by a frantic drive over to "civilization" this afternoon to do Christmas shopping. (When I say civilization, I mean that it takes at least 20-30 minutes to get to any of the major stores.)

And since our tree is not even out of the box and we have not wrapped even one present (Um. Could Christmas be only one week away?) Steve and I figured that it might be a good idea to disengage ourselves from the unpacking of the boxes and embark upon the purchasing of gifts. And the wrapping of gifts. And the putting up of the tree.

Actually, we are going to just partially put up the tree and wait to put the ornaments on when Nathan gets home Monday. But at least we can get it out of the box (yes, it's artificial) and plug it in. (Yes, it's pre-lit.)

And yes, we're a bit lazy in the sense that we do not hook up our team of horses, brave howling blizzards, fend off wild wolves, and forage through forests and fields in order to find the perfect fir.

However, I will tell you that Steve found the fortitude and courage to venture out into the after-Christmas melee
a few years back where he braved the traffic and crowds and courageously fended off two aggressive women who were desperately in love with "our" tree and its hugely discounted price. I think sometimes it would be easier to chop down a fir in the forest than it would be to survive those crazy, post-Christmas hordes of bargain hunters.

But I digress.


Before I sign off for the day, I'm going to answer a few questions that have come in lately. And then I shall be off to the happy craziness of the day!



Jenna asked, "Becky,I'm constantly struck by how happy and passionate about life your family is, and how well both of your kids are doing in a large variety of areas. With my own motherhood impending (we are adopting a 9 year old and should have her home within a month) I'd love to hear about the things you feel are important for raising kids such as yours who are happy, love both God and their family, and are just generally all around well adjusted and good people.

Our little girl has faced great hardship and neglect in her early years, and my biggest dream for her when she comes to live with us is that we can give her a sense of safety, family, and love.



Jenna, may I first say that what you are doing for this little girl is a gift beyond measure. You have chosen to walk a challenging road in order to bring hope and light into the life of a child who sounds as though she has been in some pretty hopeless situations. Sharing your love and your heart with this child will be the hardest, happiest thing you've ever done and I so admire you for this incredible commitment.





Having said that, I really don't feel like I am terribly qualified to give parenting advice since I've sort of muddled my way through the experience like most parents. There are no manuals that could ever prepare any of us for the challenges involved in this wonderful calling! Thank you, though, for your kind words regarding our family; we were honored by them.



You said in your question that your main goal for your new daughter is to give her a sense of "safety, family and love." I couldn't have said it any better myself! In fact, that was exactly how I was planning to answer when I first started reading your question: she needs unconditional love and unquestioned security.



You're already exactly on the right track and I'm not sure I could anything additional to that insight you already have. You also have the additional benefit of being uniquely called to mother this particular, specially chosen child and with that calling will come the extra equipping of wisdom, strength, and patience you will need for each situation as it arises.





I know that the other Smithellaneous readers who saw your question join me in wishing you all the best as you embark on this exciting new chapter in your family. We're all pulling for you and hope that you will keep us in touch with how things go.





Blessings to you and your family.
_______________________
And on a less serious note . . .

Chris P. asked, "What is the paint color called that you used in Steve's office?"

Chris, all we know is that it came from Ace Hardware and was called D20-5 Bainbridge. It IS a pretty color, isn't it?

_______________________

Anon asked, "The two rugs in his office look identical Which one is smaller?"

In the picture with the blue wall, the rug is a 5x7. In the other pictures with the green wall, the rug is the next size up. (Whatever that size is--I can never remember.)


Catherine said, "How about a recipe for that apple/butterscotch combo? Sounds interesting."

I'll be posting that (yummy) recipe soon.

__________________________


NSB Mom asked, "How do you like Manteo? I spent some time in Buxton a few years back."

We are lovin' Manteo! (And Buxton is a cool place too; we did a couple concerts there "back in the day.")
___________________________

Mrs Pam said, I love all the Christmas decorations in your church. Do you have an altar or chancel area or just a stage? We don't decorate for Christmas in the Episcopal Church until after the fourth Sunday of Advent.

Our church doesn't have a chancel area, or really an "official" altar area like there are in most Episcopal churches. However, the area around the edge of the platform is many times used when people come forward to pray. And yes, I also love those beautiful decorations!

Mrs. Pam also asked, "How exciting for Megan! Does she plan to teach children who are deaf, or did she learn sign language for another reason?"

Meagan doesn't really know sign language; she just learns the signs for the songs that she performs. As I've said before, I could watch her do those songs all day long; they are truly lovely.