In an earlier post I mentioned that Steve was scheduled for an interview next Monday night at a church near the coast. And I was good with that. Just Steve being interviewed, I mean.

I get nervous at the very thought of being part of an initial Pulpit Committee interview and so I was extremely and incredibly happy that Steve would be going by himself while I stayed behind to iron (or is it press?) clothes and do other non-stressful tasks. (Like hemming pants backwards.)

However, since I last wrote about the interview, the invitation has now been expanded to include his wife.

That would be, um, me.

Actually, as it turns out, I was going to be in the area anyway since Steve is preaching (and I'm singing) at another nearby city on the coast this Sunday morning. So it makes perfect sense for me to go with him on Monday night.

I guess.

Although I'd rather be ironing.

Because ironing doesn't make me nervous. Ironing doesn't bring with it any long term ramifications for my future home, my future friends, my future city, my future church, or my future job.

ALL of those things will hang in the balance on Monday night.

It's just a wee bit nerve wracking. Not to mention nerve wrecking.

Sarah will also be coming with us to the interview since she'll already be along for the Sunday service. (Nate is staying at home because he has to work.) Naturally, she won't be in the interview itself--although she would definitely charm their socks off. She'll just meet everyone and then hole up in a Sunday school room to read or listen to her iPod. Since Sunday school rooms are second homes for pastor's kids, she will be quite happy there.

The fun part of the weekend is that we only have responsibilites Sunday morning and Monday night; the rest of the time, we can just hang out and do touristy things. We weren't able to take a vacation this summer so at least we can squeeze some vacation type activities into those couple of days. I may even break out ye olde bathing suit and splash in the ocean. (Probably frightening all the little sea creatures who will scurry worriedly away in my wake.)
The church is putting us up in a lovely hotel and giving us a certificate to a great restaurant so that will be fun to get to act like fancy schmancy tourists for a few hours. Actually, I'm not quite sure what fancy schmancy tourists act like but I'm sure I can figure it out.

On another subject, I'd like to thank everyone who dropped by the comments section and weighed in on the subject of pressing vs. ironing. Andrea actually looked it up for us and shared an official definition.

"Pressing is a sewing term. When you iron, you move the iron back and forth. Pressing is when you set the iron down on the cloth and quickly lift it back up. According to the website, ironing can stretch the fabric and change the way it lies. That can affect the way a garment looks when it's put together."


Who knew?

Thanks, Andrea, for the info. And thanks to everyone who contributed a comment; it's always great fun and quite enlightening to read what you have to say.

And speaking of the comments section, here's another comment on a more serious note. Sheri Holthe wrote:

My family has been trying to sell our house now for almost a year with no offers even being made. I am starting to question if God wants us to move? Is He making it clear to us that we are right where He wants us? The only reason we are moving is because it would put us on the right track for getting out of debt (we are in serious debt).

My husband & I both thought that God would want us out of debt but it just doesn't seem to be happening. Do you ever question if God's plan and your plan are the same and how do we know? I just thought I would throw it out there since you are in the same house selling boat we are in.
That's a great question.


I don't think there's one person alive who has not, at some point, wondered whether he or she was doing the right thing or going in the right direction, especially when things took longer than expected to come together.
Steve and I were talking about that very thing on one of our recent walks and he referred to scenarios like that as being similar to a chess game. In chess, you may have a long term plan in mind, but you can't put it into effect until certain other pieces are moved into place.


Steve commented that in our particular situation, maybe God was still moving the pieces around the board (so to speak) and everything just wasn't in place yet for the final plan to be revealed and put into effect.


As I said in an earlier post, we're looking at our situations through a knothole in a fence while God is seeing them from the equivalent of the Goodyear blimp. He can see ALL the moves necessary to bring about His will and His plan while we only see a very limited picture.
The Bible says that our ways are not His ways; by inference, our timetable is not always His timetable. For people like our family, and Sharon's family--I'm grateful that He sees the big picture, the whole picture, and He is very much in control
Let me close by saying thank you to those of you who have been praying for my dad. After going through two difficult surgeries in less than two months (in addition to having three teeth extracted) he has had a hard time bouncing back and has been in and out of the hospital for ten weeks.
Yesterday, he seemed to be in a little less pain and had a bit of an appetite for the first time in a long time so he was discharged to a nursing home that offered skilled nursing care.

However, my sister just called a minute ago and said that last night he was in such extreme pain again that he was taken back to the hospital by ambulance. From what I can tell, there may be another surgery coming.

It's been a very stressful time for my mom; she's had a seizure disorder for many years (she also has a Pacemaker) and stress is one of the things that triggers seizures. They've been married for fifty-three years and have stood with each other through the worst kinds of storms and the best kinds of joys. It's hard not being there with them in the midst of these present difficulties.




For those of you who have been praying, it might be nice for you to be able to put a name with a face so here are a few Grandpa Campbell pictures.



Nathan "helping" my dad unload musical eqiupment back in the olden days.


A few years later . . .

A few more years later.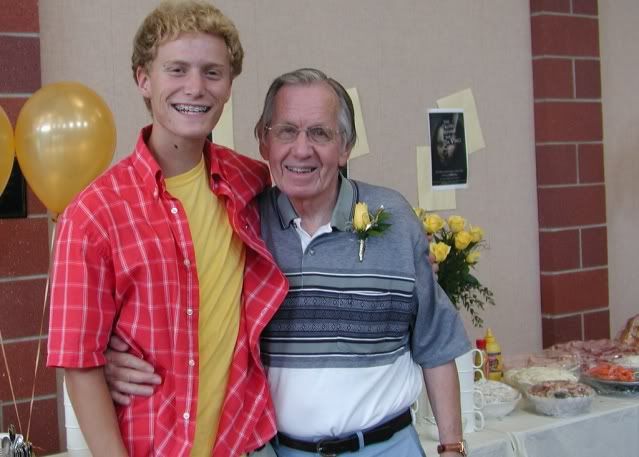 May your day be filled with summertime happiness!