I've had to spend almost all day in bed again, but I am weaning myself off some of the pain meds and am feeling just a tad better.  For some odd reason, I've almost completely lost my voice so I not only look pretty pitiful but I sound pretty pitiful as well.
But . . . I am making slow, steady progress.
Throughout the quietude of this day of rest, my mind has been full of memories from exactly one year ago today--the day my Dad left earth for heaven.
I'm re-posting a journal entry from that chapter of life. 
                                          Singing Him Home

When I left for the airport to fly to Wisconsin, Dad was very close to the end. I so very much wanted to make it there before he died and felt so tense all day, wishing the plane would go faster, wishing there wasn't a layover between flights, wishing I could just miraculously be transported to his bedside.
When I landed in Atlanta for a one hour layover, I discovered that my next flight had been delayed an extra hour. Of course, that just made me feel even more anxious. I was also nervous because I was afraid that a family member would call me at the airport to tell me Dad had died and the last thing I wanted was to hear that kind of news standing amidst a thousand strangers. And yet I just couldn't bring myself to take off again without touching base to see how things were.

With some trepidation, I called my sister, Debbie, and said, "How's he doing?"

She tried to talk, but immediately broke down and handed the phone to her husband, Randy.

My heart dropped. I thought, "Oh, it's happened. He's gone and I'm alone in this big airport and I don't know what I'm going to do."

However, all Randy said was, "Beck, it's getting very close. He's getting clammy, and his breathing is changing and it doesn't look like it will be long. I think he's hanging on though, waiting for you to arrive."

I said, "Well, please tell him not wait. If he needs to go, it's alright."

Randy said, "I'll hold the phone up to his ear and you can tell him."

Now you have to picture this. I'm standing in one of the busiest airports in the world, completely alone. And I am saying on the phone, "Dad, it's okay to go. Don't wait for me to arrive. I love you."
Well, who can speak those words without tears? Not me.

I stood in the middle of that hallway and just cried. Surrounded by strangers, I sobbed. Life ebbed and flowed around me as I stood on my small island of sorrow, clutching my phone, choking out my final goodbye.

I eventually made my way through the chaotic corridor to the women's bathroom where I holed up in a stall so that I could sob (as silently as possible) in relative privacy. As I left the bathroom a few minutes later, I decided to powder my nose. However, when I took a quick glance in the mirror, I realized that all the face powder in the world was not going to even make a dent in improving my appearance. Bloodshot, swollen eyes, makeup cried off--it was not a pretty picture.

I was hoping I might be seated on the plane next to a compassionate, grandmotherly type of person but instead I was plopped down next to a sophisticated businessman who ignored my ravaged face altogether and spent his time complaining about the flight delay.

I wanted to say to him, "Sir, I don't know what your interrupted plans for the evening were, but my plans were to make it to my dad's bedside before he died. Sometimes 'stuff' just doesn't seem so important when eternity is knocking at the door."

But I didn't say a word. I just turned my face to the window (so as not to unduly alarm anyone else with my swollen blotchiness) and silently endured the ninety minute flight to Milwaukee.


My brother, Phil, and his family picked me up at the airport and after a 3 1/2 hour trip through heavy rain, construction, and slow traffic we arrived at the hospital at 11 pm.  Amazingly, Dad was still there. Not "there" in the sense that his eyes were open and he was talking, but still "there," none the less.

On the final night of my dad's life on earth, he was surrounded by people who loved him. Phil was in a chair on one side of his bed, my mom slept on a cot at the foot of his bed, and I was in a recliner on the other side of his bed. Other family members were scattered throughout the hospital, resting, waiting, weeping, hoping, each one so grateful for his life, each one so thankful that they knew where he would go after he left us.

I spent most of the night fitfully tossing, watching the clock, watching the nurses as they came in and out, listening to Dad breathe, counting the seconds between the breaths, wiping silent tears, looking at my mom as she slept for the very last time near the man she loved so deeply.

It was the longest night.

It was the longest night that in turn gave way to the Longest Day--at least for my dad. When he stepped into eternity at 9:40 am, he stepped into a realm that doesn't allow night time, darkness, sorrow, sickness or tears. And amazingly, the song that was playing on the CD player right as he died just happened to be one I had written many years ago and recorded with Steve, Randy and Debbie. One line of the song says, "It's time to rise, step through the skies . . ."

As Dad left the hospital room and started his journey, our voices were singing him home.
_____________________
Gathering around him to pray a couple hours before he died.
Waiting . . .
At the front desk area of hospice, they lit this candle when dad died.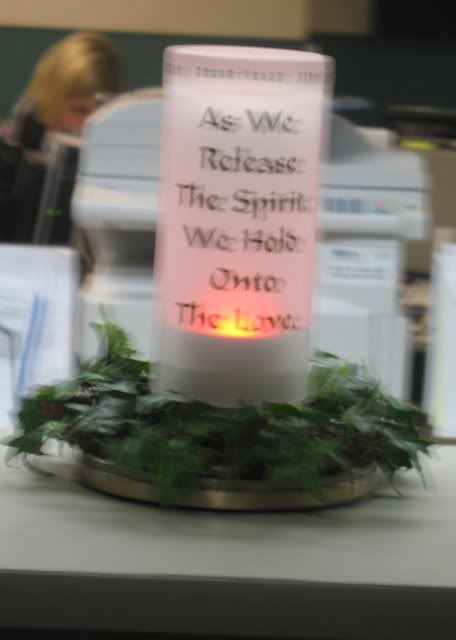 The cemetery where he was buried and the nearby church. It is one of the most beautiful cemeteries I've ever seen--Wisconsin scenery at its finest.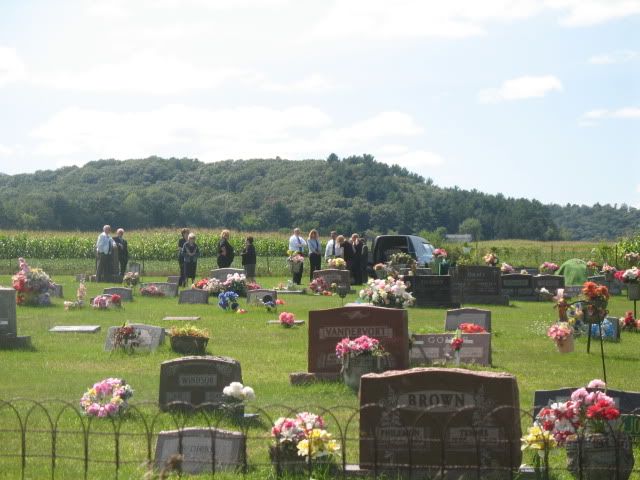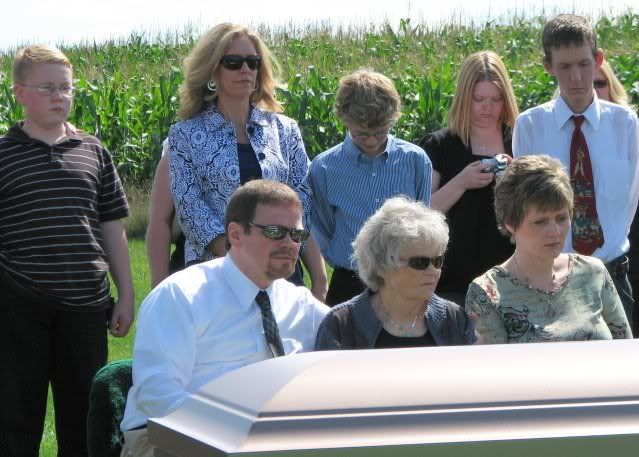 It's time to rise, step through the skies . . .