Who knew packing could be so much work? And involve so much thinking? And chaos? And decision making? And pondering? And organizing? And downright hard stinkin' physical labor? At least I'm burning up a lot of calories in the process! One hour of jogging: 300 calories. One hour of packing: 1800 calories. (In case you're wondering, it's new--and improved--math.)
In Nathan News, his blood work came back yesterday showing that he has high thyroid levels. Of course, being a mom, I immediately consulted Dr. Google and discovered that high thyroid levels can affect the heart. With him being diagnosed with hyperthyroidism in North Carolina and then heading back to Florida on Saturday, I'm not sure which doctor in which state he'll be dealing with. But you can be quite certain that I am going to "politely nag" him to make sure that the condition is treated--whatever that may take.
He's going to spend a few hours having Thanksgiving with Meagan's grandparents, aunts, uncles, cousins, parents and sister who will all be gathering about half an hour away.
And then tonight and tomorrow night, he will sleep in his bedroom for the very last time. He's done so much growing up in this house and in that room; his last night under this roof will be a bittersweet moment. And when we say good bye to him on Saturday, knowing he'll never come back here to live? Kleenex will definitely be the order of the day.
With all of our house guests, we've been playing "musical beds" this week; for instance, on one particular night, Ken and Vernie slept in Nate's room, Meagan slept in Sarah's room and Sarah and Nathan had their own slumber party in the living room.
It was such a dear sight to see the two of them together. And you can take my word for it. There really is a College Dude somewhere under all the greenness of that green blanket lump.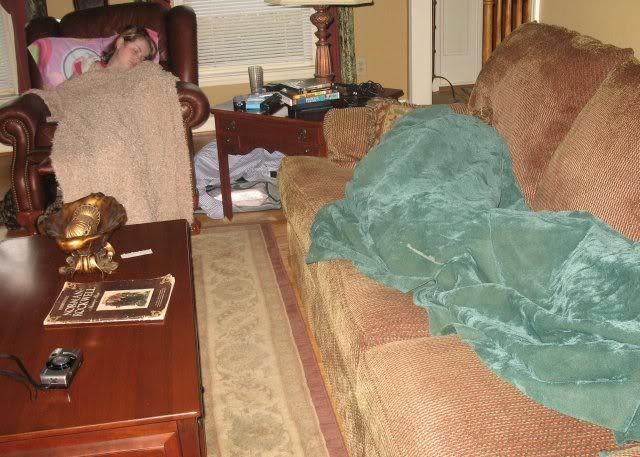 Such a sweet face.

With several extra people (and excellent packers) in the house, we've gotten quite used to the sight of piles of luggage all around.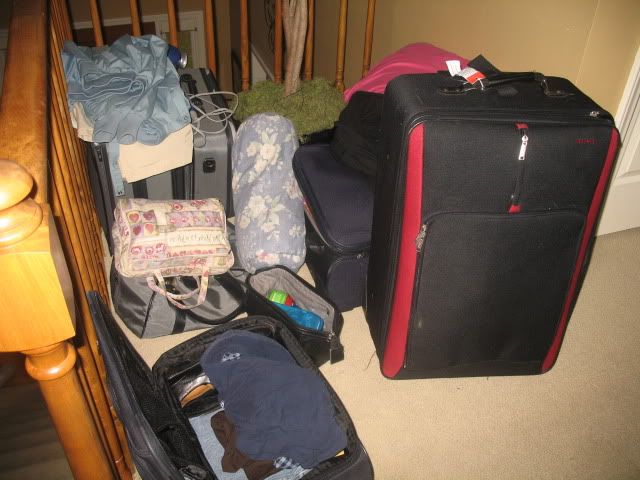 And speaking of packers, here's Nathan working on his room. And his stuff. (I was so thankful he was home to do his own room; I would have had a terrible time trying to make decisions for him on what to keep and not keep.) Meagan worked with him and they did a great job on it.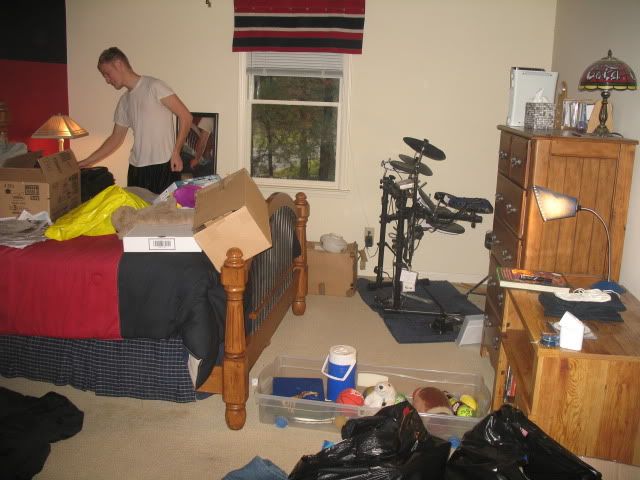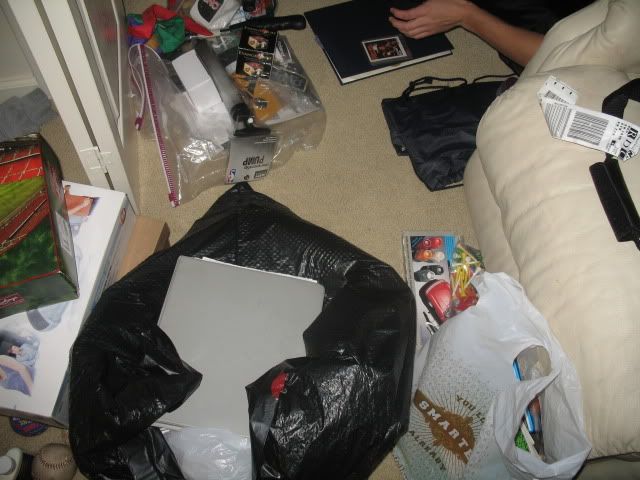 Here is my favorite packer, hard at work. His Official Packing Gift consists of taking oddly shaped, fragile items and custom-creating packing solutions for them. MY Official Packing Gift is to throw things into boxes willy nilly, haphazardly slap on some tape and then run to the kitchen for a Little Debbie snack cake.
These are the kinds of things Steve excels in packing. (While I run screaming in the other direction.)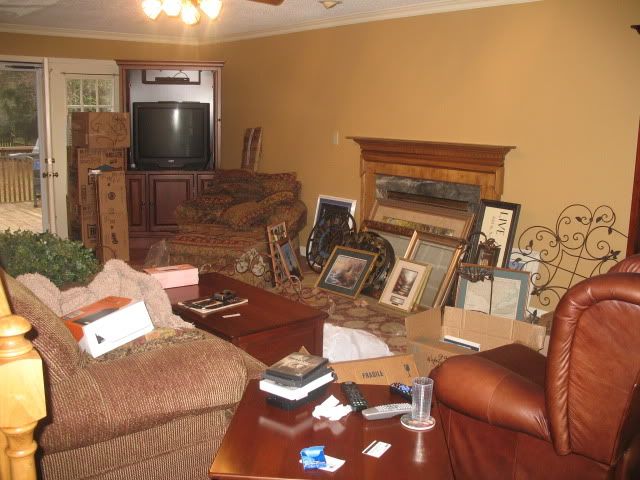 Okay. Now I'm going to take a risk and allow you to see the disaster that is our garage. I would just love for you all to believe that we keep our garage as sparkling and tidy as an operating room
but I'm afraid it just ain't so. (Well, at least right now. We have had momentary periods in our life when the garage has been neat but this isn't one of them.)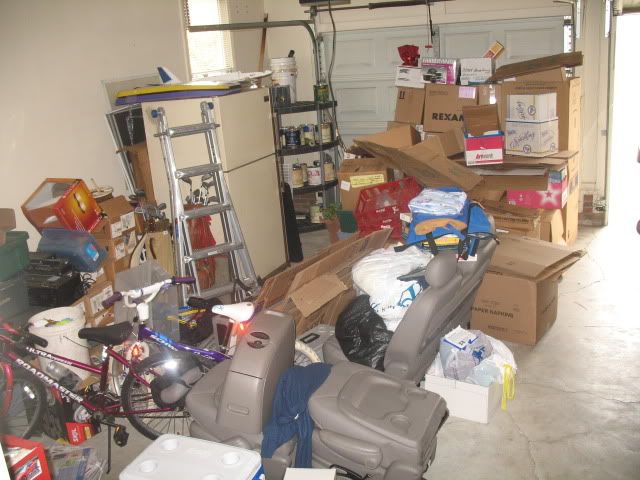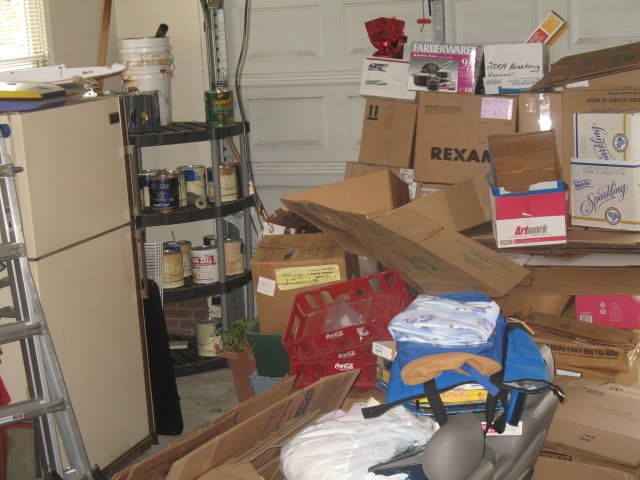 While you're sitting in your box-less home today, eating your Thanksgiving meal, please think of us laboring from sun up to sundown in the chaos that is our home. (And garage.) And eat another piece of pie in my honor.
And speaking of laboring, here's a couple people who deserve national recognition, a huge paycheck and a vacation to Hawaii. They worked tirelessly for two days straight and, in addition, Vernie helped me with the Thanksgiving meal on Monday night. By Tuesday night, they had slap worn me out but about 7 pm, Ken was still saying cheerily,"I think we could work another couple hours at least."
And I was saying, "Um. Is it time for bed yet?"
Ken and Vernie: thank you, thank you, thank you! You were both amazing and you made the packing task bearable, doable and even fun.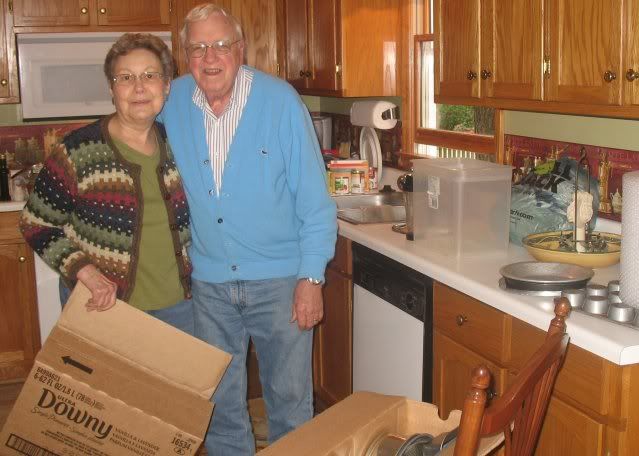 And in other news, thanks to all of you who weighed in on painting and decorating Steve's office. You guys are impressively knowledgeable in that area--much more so than I am! I'll be sure to post some pictures when we get everything finished up.
Since today is Thanksgiving, Sarah and I will take the day off from school which we're both excited about. I'll probably let her take tomorrow off too, except for doing math. She has a lot of ground to make up in math so we'll probably be doing that subject all the way through the summer. Just think how smart I'm going to be by the time she starts ninth grade at Manteo High School. I could start my own TV show and call it, "Are You Smarter Than A Home Schooling Mom Of An Eighth Grader?" (You probably are smarter, but it's a nice idea, anyway.)
Oh, and before I forget, the question was asked in the comments section if the ring on Meagan's left hand was an engagement ring. Nope! It's just a regular ol' ring. Worn by a very special young lady!
And one more thing before I close. (Or as I continue to ramble . . . )
Yesterday, I posted a picture of us all sitting demurely at the dinner table on Monday night. What I didn't show you was the picture that was taken a few seconds earlier when Steve (who was in charge of the timer on the camera) didn't quite make it back to his chair in time, after pushing the button.
A smile producing photo!
I hope your Thanksgiving day gives you many reasons to smile.