A note added after the original post: "Sue G. signed the guest book and said, "Okay, first the disclaimer: I did NOT say you would get a lot of flack for putting ketchup on your hot dog. I DID say that putting ketchup on your dog and calling it a Chicago dog is a misnomer."
So I stand (and sit corrected) and want to hereby proclaim to all that Sue DOES think it's pretty normal to put ketchup on a hot dog; however, SHE doesn't personally like them that way.
Original Post Starts Here!
Since Nate was gone on Father's Day we had a belated Father's Day meal earlier this week. For
some strange reason Steve got it in his head that he wanted his special meal to consist of Chicago Style hot dogs.


I didn't even know what a Chicago Style hot dog meant so I immediately betook myself to the Internet and discovered this important factoid. "A Chicago Style hot dog contains a list of ingredients--longer than the hot dog itself--that Becky Smith would absolutely hate eating."


I kid you not. There was the definition, right there on the Internet. (Now if you want me to quote you chapter and verse URL as to where to find it, I think I may have forgotten.)


And so on Wednesday night, the Smith Family set up a Hot Dog Shop, Chicago style.


Nathan grilled the dogs and then Steve very happily "compiled them." From what I could discern, there was relish, mustard, celery salt, onion, peppers, tomatoes, and pickles. Is that nasty, or what?
Oops. He had forgotten the peppers. NOW they're complete.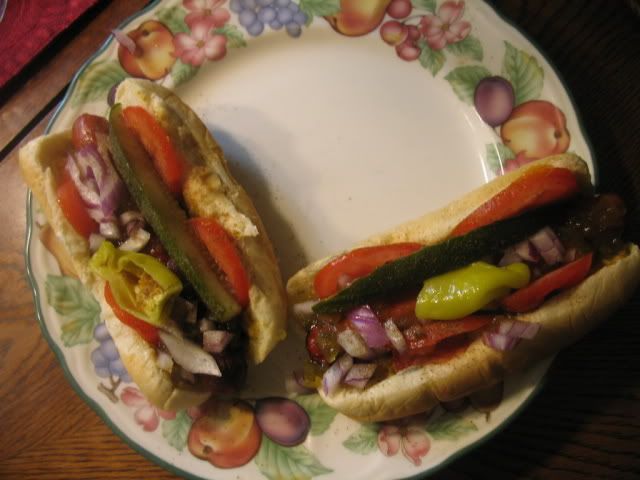 Steve was absolutely delighted with his creation; he is obviously a person who loves to experiment with his food. I too, am very experimental in my tastes, especially in the toppings I put on hot dogs. Here is my well dressed dog


(Now just so you know, Sue G, a lady with Chicago roots, sent me a warning e-mail after she heard I would be writing on this subject. She said it might be dangerous for me to mention in a public forum that I put ketchup on my hot dogs because it seems that there are people out there who are strenuously OPPOSED to using ketchup on a hot dog which is just a little hard for me to believe.)

Anyway, moving on . . .

Not only does Steve love to expand his culinary horizons, he also likes to share his experiments with his family members. And so Nathan, being a chip off the ol' experimental block told Steve to go ahead make up two Chi-Town hot dogs for him as well. (We usually don't let Nate wear t-shirts at the dinner table but since it was a cook out, we figured it would be legal.)

Please note: If you're planning on eating one of these (yucky) concoctions, you must have the ability to open your mouth extremely wide. Thankfully, Nathan came equipped at birth with a pretty wide mouth.

His take on the dogs? He said he was glad he had them but he probably wouldn't eat them again. Isn't he just the soul of diplomacy?

Okay. Now this is where it gets really good.

After Steve had convinced Nathan to try ye olde hot dogs, he laid on all his considerable charm and asked if I would (pretty please) try just one bite.

In the interest of marital bliss and in the pursuit of a brave and courageous mindset in regard to the culinary arena, I capitulated.

Now let me apologize in advance for the fact that these pictures are a little vague as to revealing whether or not I enjoyed that bite; you will have to study them very carefully.

Are you ready? Is your magnifying glass ready? Are your powers of observation polished up?

Here we go.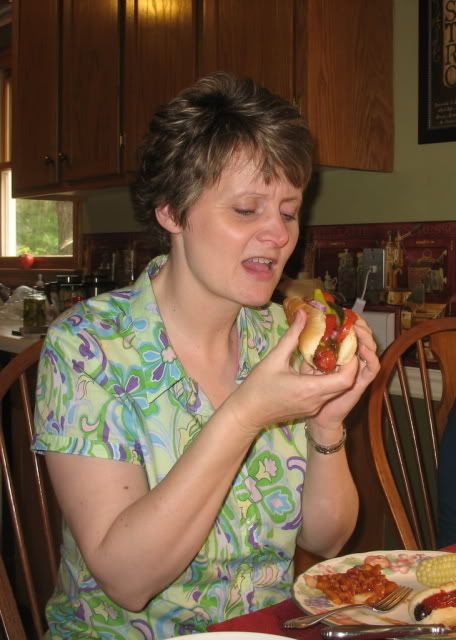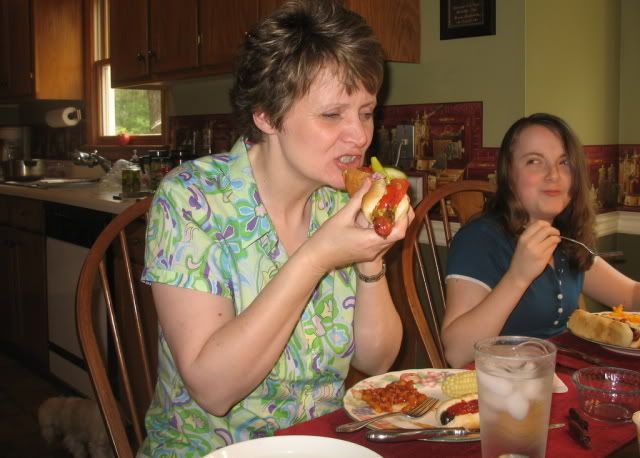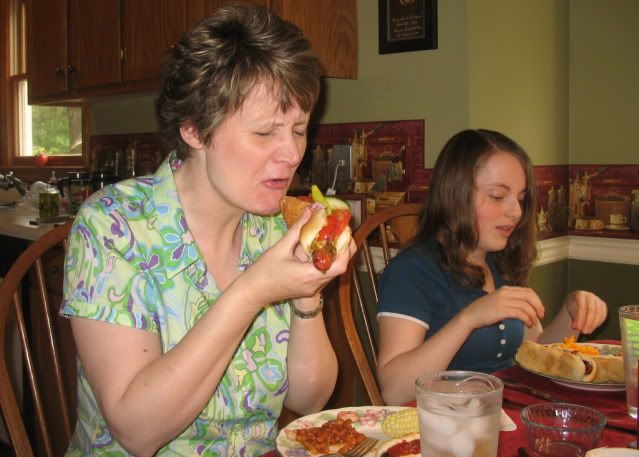 Okay. You can stop laughing now.
And you can stop wondering if I was really wearing make up, because I wasn't. (It had all dismally dissipated by then.) I realize that the pictures are even more scary than they would have been otherwise--a woman making faces with a make up-less face is not for the faint of heart. I do apologize for what I just put you through.


After the drama-drenched hot dog dinner, the four of us launched into dish doing. While Steve got busy over at the sink, Nathan decided that in between his cleaning duties, he would dance a little.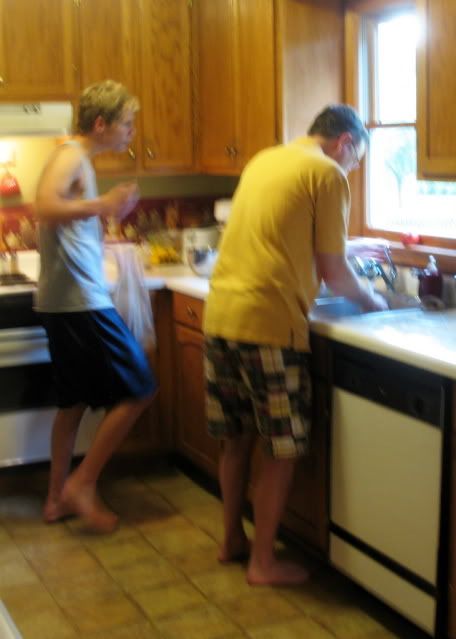 And THEN he decided that the evening clean up time would be enhanced by snapping his dad with a towel. (Have I mentioned before that Nate is the world's biggest tease?)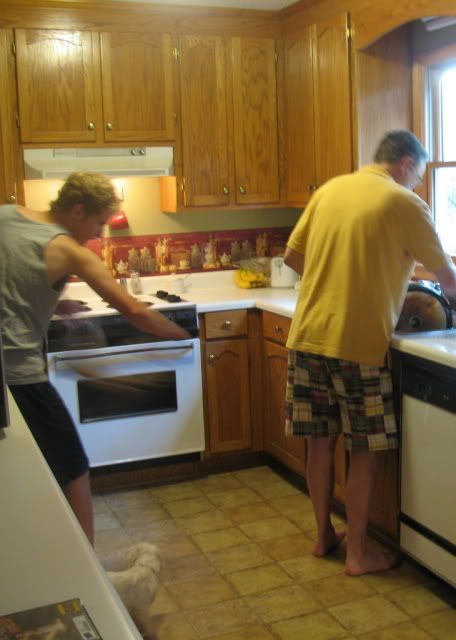 Finally, Steve decided that the Young Pup needed a lesson from Big Daddy Dog and he suddenly delivered a backward kick packed with incredible speed and ferocity, all the while never even missing a beat on his Big Daddy Dog dish duty.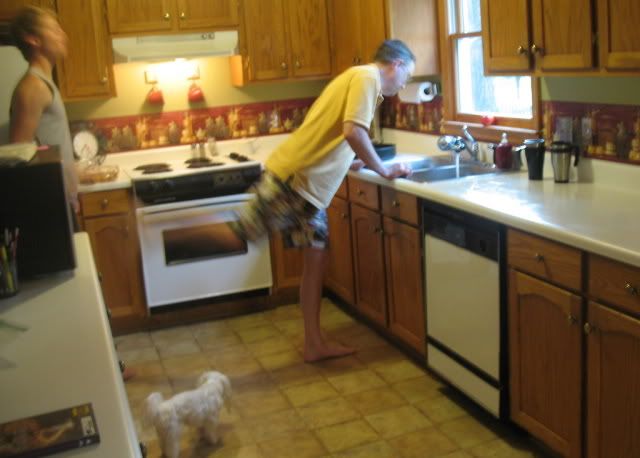 Nathan was so intimated and astounded by this unexpected act of paternal Kung Fu-ness that he immediately fell back into line and started doing his work again.



Of course, Snowy was there to help.


Isn't that just such a beautiful sight? The Smith Men doing the dishes while the elder Smith Woman goofs off and takes pictures, and the Younger Smith Woman lurks behind the Elder Smith Woman and giggles at the two Smith Men.

Eventually, the dishes got done, and the hot dog-eating, dancing, towel snapping, backward kicking, picture-taking evening was complete. A special day honoring a very special (Chicago hot dog-eating) dad.
__________________________________

And NOW I need to ask all the folks who live (or have lived) in Chicago to let us know what YOUR version of a Chicago style hot dog is. And whether or you actually enjoy eating them?
And I also would like to know--how many of you ALSO put ketchup on your hot dogs?