A few follow up thoughts from the post I did earlier today:


First, I am very happy to know that so many of you approved our "card table as patio furniture" decision. And it's also nice to hear that others of you have used furniture in such creative ways. That's what makes life fun!


Secondly, in the guest book, Angie asked what flavor shakes we ordered at Chick-Fil-A. (And if I'm not mistaken, I think Angie is the one who sent us a bunch of free milk shake coupons.)


Sarah and I chose Cookies and Cream and Steve and I chose the Peach flavor. If you're good at doing "higher math" you may have noticed that although there were three people involved and two choices, I still got to choose twice.

Because I'm The Mom, that's why.

And let me just say right here that the Peach shake that Chick-Fil-A makes is incredible--the next best thing to homemade you'll ever find, with little bits of peach in it.

For us at least, part of the fun of going to Chick-Fil-A is getting to see Nathan. This time around, he was working the drive-thru window so Steve pulled through there to place our order. Steve immediately disguised his voice (he talked really high) to see how long it would take Nathan to catch on.

It didn't take long.

Of course, it helped a little bit that Nathan could look in his little TV monitor thingie and see our green van. Hard to disguise yourself when your vehicle is on TV.

Steve told him that we wanted two shakes, one with two cherries and one with no cherries.


Nathan yelled back over the intercom, "NO!"

Now you must understand that Chick-Fil-A employees are trained to answer, "My pleasure" whenever a request is made of them. I'm sure the other employees were a bit alarmed to hear Nathan shrieking, "NO" into his little microphone.

Of course, when we pulled around to the window, the mystery was solved. It was Nathan's "annoying family" showing up at Chick-Fil-A again! I wouldn't doubt if they start calling security the next time they see The Green Van appear. (Hey, give us a break! We don't get out much.)

This Friday, Nathan is going to "be" the Chick-Fil-A cow for several hours. I will do my best to sneak over there (in The Green Van, no less) and snap some pictures of him interacting with the public as a cow! Should be very inspiring. As soon as he sees me with the camera, he'll probably chase me around the restaurant (in his cow suit) yelling, "NO!"

I think it will be great fun.

Lastly, Sarah informed me at dinner tonight that when I did the famous Hot Dog Post, I didn't post a picture of what MY hot dog looked like, even though I said something like, "Here is a picture of my well dressed dog." I am obviously falling down on my job as a picture poster.

So lest any of you are losing sleep over this issue (yeah, right) I thought I would post the picture so that you can compare the simplicity of my hot dog with the convoluted complexity of Steve's.


Here's mine.
Here's Steve's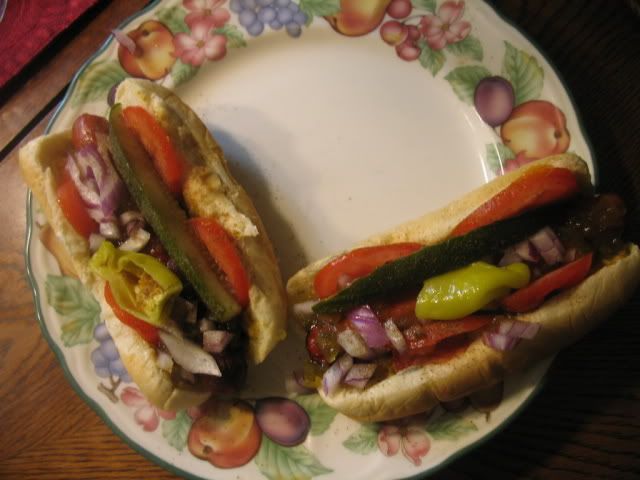 The end.