We're getting close. Closer and closer and closer. And even closer. It looks as though we'll be sleeping in our new house tomorrow night!


One of the reasons we haven't moved in earlier was that when I spent more than a few minutes in our master bathroom/bedroom, my lungs started aching and I experienced shortness of breath. I also got a sore throat and a headache. Not such a good thing!
It was also a bit disconcerting because we didn't know if I was reacting to something within the house itself which couldn't be changed. That would not be good news, being unable to live in my own house!

On Monday, the carpet cleaner guy came and yesterday, with some fear and trembling, I ventured into the bedroom and took a few experimental breaths. And then a few more.
Bottom line? I was able to spend two hours unpacking and organizing the master bath and bedroom with nary a problem. Hallelujah!
Whatever issue I was dealing with obviously had to do with something in the carpet. We would love to put hardwood floors in our bedroom eventually, just because they're much more friendly to people with lung problems, but for now we'll deal with what we have.

I had posted a picture a few days ago of Steve working on curtains in the living room; however, after an hour or two of messing around with them, we finally took a step back from the project and realized the whole idea was never going to work. The curtains that were already in place were pretty old, faded from the sun and had gotten beyond the point of hanging straight.

So on our way to Smithfield Monday, we stopped by a store and picked up some simple panels to hang instead. They look so much better! We threw the dusty, musty drapes out on the back deck which made my dust-hating lungs even happier. Happy lungs, happy life!

Here are a few more pictures of our progress.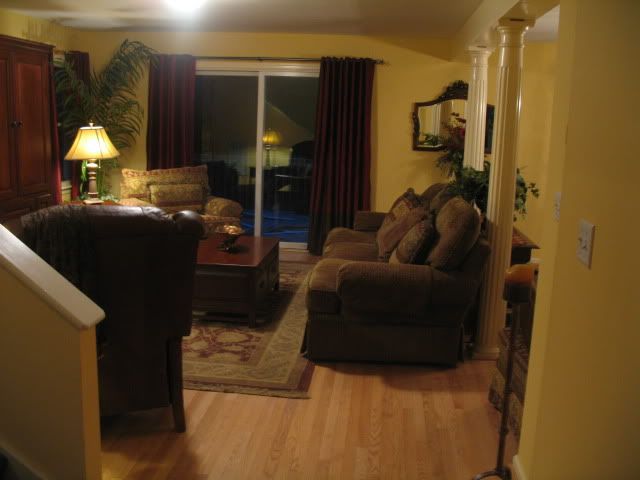 ________________
Comments on the Comment Section
Krista asked to see some pictures of Sarah's room. It is very much "in process" right now; we're hoping to make a good bit of progress in there today.
This is what she sees when she looks down from her room. Pretty cool view, huh?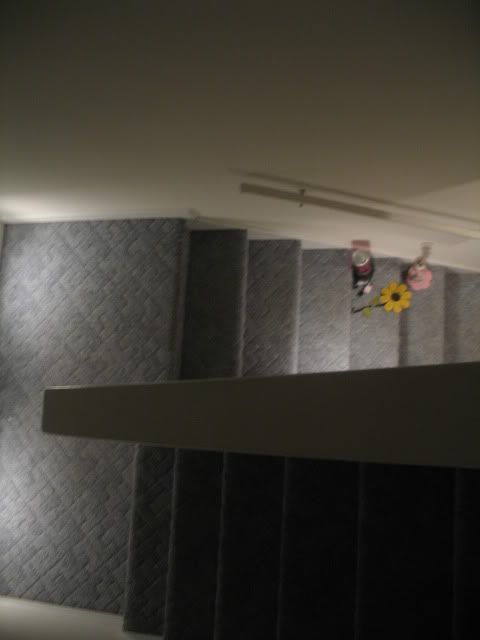 _______________
Anonymous asked what size t-shirt Sarah wears. She can wear either a size 16 girls (extra large) or the smallest size in a junior. (Don't know if that's a 1 or a 3. I left those sizes behind when I was about seven years old.)
________________
Lysa had an excellent question concerning why we made Nathan's bed first when he won't be home for two weeks.
I actually have a very good reason! Our bed did not yet have the dust ruffle (fender skirt, bed skirt, whatever . . . ) on it and the king mattress is too big for me to help Steve move it. So we're waiting for reinforcements to come in today and move the mattress. Then the skirt can go on, the sheets, the comforter, the pillows--and we'll be good to go!
Okay. I'm signing off. And you'll never guess what I'm going to do next.
Can't guess?
I'll give you a hint.
It has to do with boxes.
Try to figure it out.