We still aren't sleeping in our house due to a variety of reasons so I am now carting a lot of the stuff that was unpacked into the new house back to the cottage that we're borrowing.
It always seems that when I'm at the cottage and need something, it's at the house and when I'm at the house and need something, it's at the cottage. My brain is having to think way too hard just to accomplish the basic stuff of life.
My brain is screaming for chocolate. My brain is getting chocolate. Chocolate is the only way to get through each day.
Also, to add to our joyous chaos, every sentence Steve and I have said to each other in the past five days has started with, "Honey, have you seen my . . . ?"
And every answer has been, "It's in a box."
We don't know WHAT box. Just a box. Pick a box, any box.
Sigh.
And today, rather than head back to the house to continue to unpack and get one step closer to sleeping there, we are hitting the road in about an hour to drive back to Smithfield (to our other house) in order to take care of some cleaning and repairs there. We also have to pack up a few leftovers that we didn't have time to deal with when the Big Moving Guys were there.
Have I mentioned I am overwhelmed? And tired of being discombobulated in a most discombobulatory sort of way? My little ol' comfort zone that needs to be well organized has stretched to the point of snapping and I now seem to frequently find myself stumbling around, muttering to myself and wringing my hands.
Stumbling. Muttering. Wringing. You should try it sometime. It's tons of fun!
Thankfully, we've had a couple meals brought in and we were also invited to a church member's house for a meal Saturday night. (Thanks, Bibber, Marvin and Betsy; what a lovely evening!)
It's Bibber's sister who is letting us use her cottage; she lives in Florida and only stays here part of the time. I told Steve that if I didn't have this lovely, cozy, peaceful, well-organized place to come to at night, I would be in serious danger of going utterly insane. And I would also be in serious danger of stumbling, muttering and wringing.
(Oh wait. I'm already doing that. Never mind.)
At any rate, I won't keep you here too long with my random ramblings and ruminations. I just wanted to let you know how much I've appreciated all your sweet messages of encouragement in the comments section; I love checking in several times a day to get a little boost of the sunshine you've been sending our way.
I'll close out with a few miscellaneous pictures before getting ready to head down the highway to Smithfield. To clean. And pack. And organize. And stumble. And mutter. And wring.
And chocolate-ize my life.
Here is Sir Hubby hard at work repairing the box spring he had to take apart in order to get it moved upstairs.
Saturday night found all three of us at the house rummaging through boxes and unpacked hanging clothes to try and find something to wear to church. Have you ever tried to find a pair of earrings and matching necklace in a pile of boxes that rivals Mount Everest? I engaged in a little extra stumbling and muttering but I finally succeeded.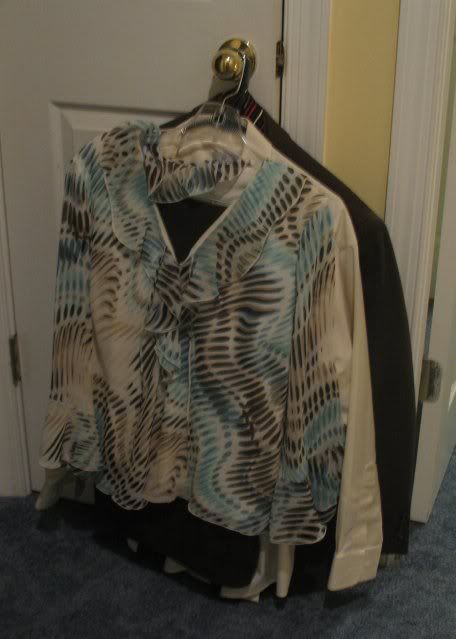 Here's Nathan's room in process. We ended up not liking where we'd had the movers put the furniture, so on Saturday, Steve and I ended up moving all the furniture around his room. I told Steve I would be happy to lend him my "massive musculature" for the project. He did very well not to snicker out loud over that particular piece of pitiful hyperbole.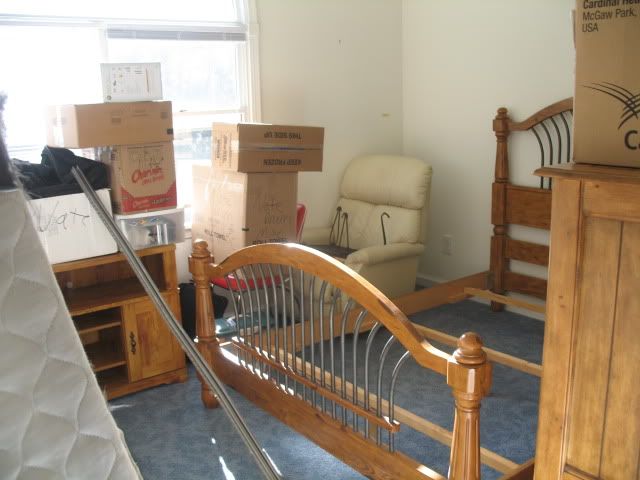 After we got the bed moved to where we wanted it and got the box spring in place, we wrestled the queen sized mattress on top of it. (My massive musculature was not feeling quite so massive by that point.)
We had just barely managed to get the the mattress shoved into place when Steve suddenly shouted, "Hey, we forgot the fender skirt!"
Fender skirt? I stared at him in puzzled bamboozlement before finally realizing that he meant the dust ruffle.
Well, suddenly the whole thing just struck my tired brain as being so funny that I almost had to go sit down on the floor because I was laughing so hard.
Of course (as my few male readers will realize), when Steve mentioned a fender skirt, he was talking about a certain piece of a car. And if you need still more of an explanation, I'll just let you know that a fender skirt is the, um, skirt that goes over the fender. (Sometimes I impress even myself with my broad range of knowledge. Not to mention my massive musculature.)
At any rate, we got the giggling over with, removed the mattress, applied the fender skirt, er, dust ruffle, and put the mattress back where it belonged.
And then, oh joy of joys, we made the bed. It's the first "made" bed in the new house and I was so happy about it I just had to sit and stare at the bed for about ten minutes. (I don't get out much.)
When you're living in the land of chaos, even the small triumphs are huge.


One made up bed, complete with a fender skirt; we're making good progress. At this rate, we might even be sleeping in the house before Sarah graduates from High School!
_________________________
Comments On Your Comments

Mrs. Pam asked if I knew where a comment was from if she signed under "anonymous."

Mrs Pam, it won't automatically tell me, but if you just sign your name at the end of your "anonymous" note, all will be well. (And thank you for being one of my most faithful signers.)
______________________

Anonymous asked, "What is on Sarah's Christmas list this year?"
Mostly Cd's, books, and stuff for her little hand held game gizmo. (I can never remember what those are called.) She also said she wants t-shirts with cute graphic sayings on them. (For instance she has one that says, "Life Is Short And So Am I.")
Unfortunately, in the middle of this move, Christmas has been pushed far to the back of my muddled mind. At some point, I suppose I shall have to stop stumbling and muttering and start concentrating on the season. And eggnog. And sugar cookies. And chocolate.
Jan from Toledo asked which song of mine won the Grand Prize in the national songwriting competition I referred to earlier.
Here are the lyrics. We recorded it with a huge sounding orchestra, strings, brass, etc all done on a synthesizer by a guy who does studio work full time and does an amazing job of making orchestral stuff sound "real." We also had some incredible background singers and the song turned out beautifully.
Let The Blood Speak For Me
1. It's so hard to find the words to say
When I'm standing face to face
With the accuser who comes telling me
That I've strayed too far from grace
Just when my soul begins to tremble
Heaven starts to intercede
And I know I can boldly cry
The only words I need
CHORUS
Let the blood speak for me
Let it tell of Calvary
Let it say again
That I am free
O let the blood speak for me
2. When the voice of condemnation comes
When it drives my heart to tears
When it speaks to me of yesterday
Full of failures, full of fears
Well, I begin to cry for mercy
At the gates of grace I plead
Each day I pray for strength to say
The only words I need
Repeat chorus
BRIDGE
Speaking of mercy, speaking of grace
But no longer speaking of sins long erased
Back to chorus