A couple days ago, Nathan and Meagan went out to the backyard to swing. Meagan told me later that she had said to Nathan, "I bet that within the next five minutes, your mom will be at one of the windows taking pictures."

Meagan knows me too well.

I was working upstairs when I just happened to glance outside. I immediately grabbed my camera, ran to the upstairs bathroom window, threw it open and yelled, "Smile! I'm going to take your picture!"

And then I yelled again even louder, "Smile! I have the camera!"

They heard me. They saw me. They smiled.

I took their picture.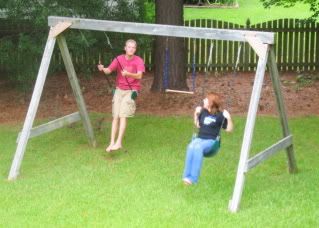 End of story, right?

Wrong.

Let's now take a look at this whole scenario from Steve's perspective.

He and Nathan had just returned from the gym where they had played a ferocious and highly competitive game of racquetball. Steve decided that since he was sort of sweaty, he would take a shower.

Fine.

So there he was, standing happily in the shower, humming merrily to himself, and just as naked as a newborn. And then suddenly, crashing into the middle of his placid, peaceful, showery existence comes the sound of his wife's voice. And his wife's voice is uttering some very strange and scary words."

Her voice is shrieking enthusiastically, "Smile! I'm going to take your picture!"

And then even louder, "Smile! I have the camera!"

It occurred to Steve that his wife had finally crossed the line. It occurred to him that in her frenzied efforts to come up with enough pictures to adequately supply her blog, she had finally gone completely loopy, not to mention loony and had decided to start snapping pictures of nekkid men in the shower.

So he did the only reasonable thing he could think of--well, reasonable to him, at least.

He flung open the shower door and hollered, "WHAT in the WORLD are you doing?"

Now let me just insert this little wifely thought.

If I was in the shower and I heard a voice outside saying, "Smile, I'm going to take your picture" I would not, repeat, WOULD NOT fling open the shower door to find out what was going on. No, I would commence to huddling in the corner of the shower until the maniacal person had left the room, with his or her accompanying maniacal camera.

When I told the Shower Story to the family later, Steve took a lot of ribbing about flinging open the shower door all the while knowing there was a wild camera woman lurking outside.

But in his defense, I guess that when you hear someone in the bathroom yelling about taking pictures, you very well might experience a temporary bout of discombobulation that could cause you to do things you wouldn't normally do.

Let me just say that he was very happy that I was NOT taking his shower picture for his blog. And let me just say that I am very happy that he now believes that I would never do such a thing.

Well, unless I got really, really desperate for blog pictures. And then? All bets are off.