In our ongoing efforts to make our house more saleable, Steve installed an over-the-stove microwave this week. Although we knew that one little

ol

' microwave would not make or break a sale, it would mean that we could remove the Huge, Gawky, Gigantic Black Box of a Microwave that we've had on the counter. And doing that would free up a lot of counter space.


Since bathrooms and kitchens sell houses, and since our master bath (with only a single instead of a double sink) is going to hurt the sale of the house, we figured we'd concentrate a little more on the kitchen. (Since installing a microwave is a bit easier than creating double sinks.)


Here is the old kitchen look.
Please note, if you will, the aforementioned Huge, Gawky, Gigantic Black Box of a Microwave and accompanying junk, er, necessary items taking up half of one counter.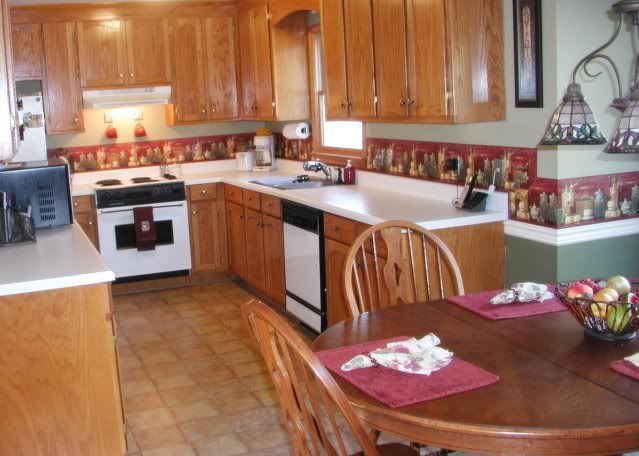 Now look at the difference! Pretty, cool huh?
And here is where I must insert a word about my multi talented husband. He took a look at the light/exhaust fan unit that was above the stove which had to be ripped out, and he pondered the issues of getting electricity in the cupboard above the stove in order to plug the new microwave in, and he thought about the challenges of getting a heavy microwave lifted up and mounted on the wall above the stove (all things that would have made me run away in horror) and he said, "That shouldn't be too bad of a job."


He said the same thing when he was contemplating our shower in the master bath a year ago and was preparing to install a glass shower door to replace the shower curtain. "That shouldn't be too bad of a job."


Yeah, it's not too bad of a job if you're massively talented in doing home improvements like he is.


But I digress. Back to the story in pictures we go.


Here is the Brilliant Home Repair Man unpacking the exciting new microwave.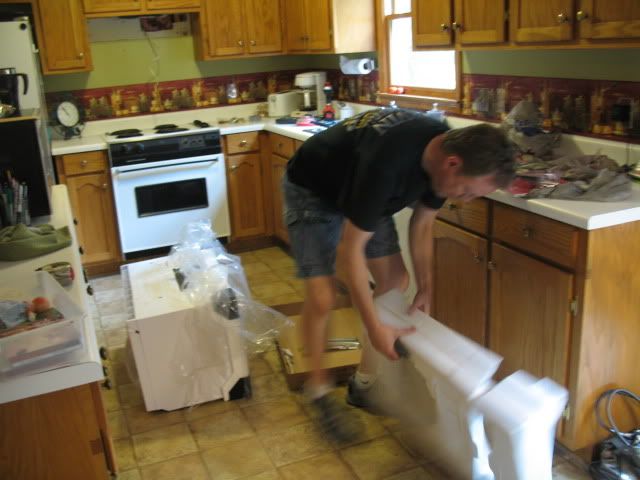 And here is the Brilliant Home Repair Man pondering the installation directions.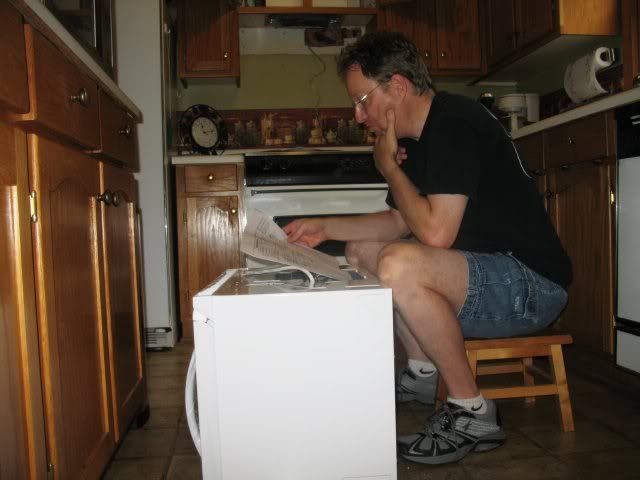 And here is where I asked the Brilliant Home Repair Man to change his pose so that he would more closely resemble The Thinker. He looked at me and said, "You don't need me to take off my clothes, do you?" (Since of course, The Thinker Guy is a bit

nekkid

.) I said, "No, I think it would be okay for you to leave your clothes on."


You all can thank me later.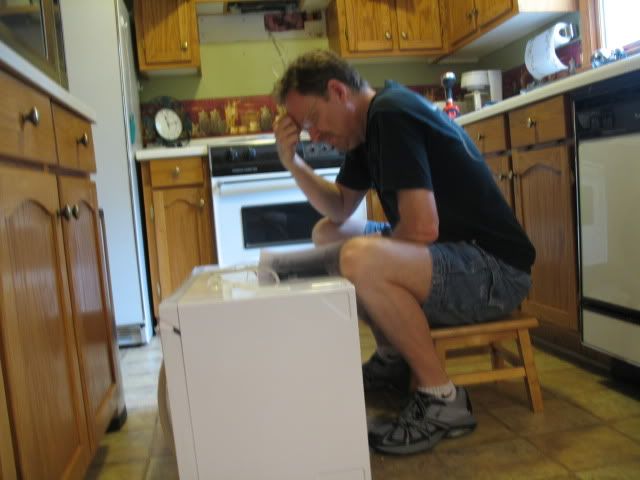 While the Brilliant Home Repair Man did his Brilliant Home Repairs, his Brilliant Wife and Daughter worked on their own Personal Home Projects.


I got going on some further sorting duties which I am attempting to get finished before we start packing for real.
Sarah took everything out of the TV cabinet and started sorting through videos and DVDs and deciding which ones to give away and which ones to pack.
After The Brilliant Home Repair Man had finished his masterful job of installing the microwave,
he got to work on installing a new light fixture over the kitchen sink. In this photo, you have to be aware of the fact that he is standing with his feet straddling the kitchen sink while cutting a hole in the very hard oak

thingie

above him. (He would never say the word "

thingie

" since he is a Brilliant Home Repair Man. I, on the other hand, call just everything a "

thingie

.")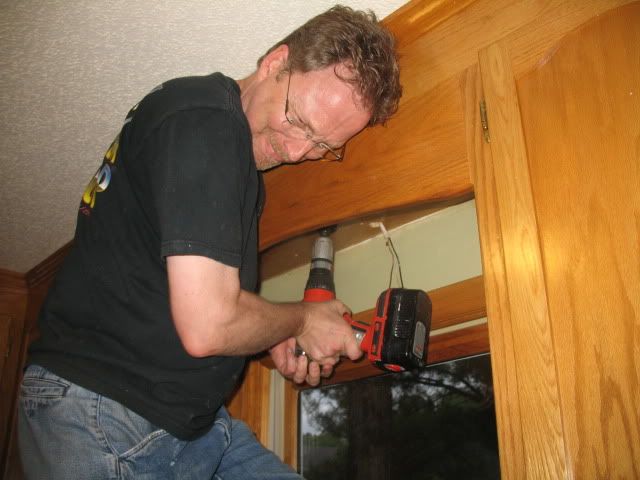 We also thought it would be good to change out the burners in the stove since they were about twenty years old and all

crookedy

. This "feature" caused the making of certain things like omelets to be a study in patience and creativity as we had to learn how to pick up the pan at exactly the right time and swirl the eggs in the opposite direction of the downhill flow.


Did that make any sense? If you've ever cooked on a

crookedy

burner than I know you understand. You are my

Crookedy

Burner Pals!


Here are the old burners in all of their

crookedyness

.
And the new burners. Ta-

da

!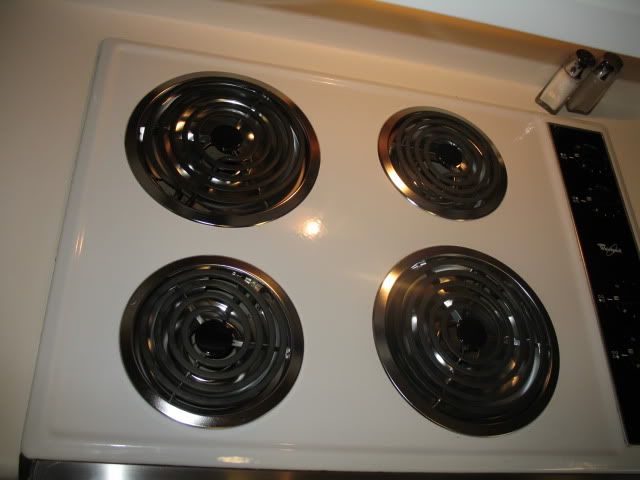 Steve cooked an omelet the next morning and he said that it was quite disconcerting for him to put the eggs in the pan and just watch them sit there calmly and obediently, in a state of complete

untiltedness

. He hardly knew what to do with himself since he was so used to assisting his omelets through the cooking process by scientifically thought out and empirically tested tilting methods.


It's the simple things that make life (and omelets) so good.

___________________________


Before I answer a couple questions asked in the comments section, I want to let you know that my next post will be about Extreme Hair Trauma. Don't miss it! (smile)


And now, from the comments section:


Q. Where does Snowy go when you travel out of town?


A. In the past, we've taken Snowy with us, but it gets to be a bit complicated--for him, and for us. So we've found a kennel nearby that he seems pretty happy at; whenever we pick him up, he always seems calm and contented. We'll take him in tonight (since we'll leave for Florida before it opens tomorrow) and he'll stay till Wednesday morning. This will the longest he's been apart from us but I think he'll be fine. He no doubt enjoys the social,

yappy

interaction with all the other dogs.

Q
. How does Sarah feel about the

Manteo

area?


A. She really loves it. She seems to find the thought of living on an island exciting and of course, she is impressed with the loveliness of the surroundings. Sarah is the kind of gal that finds the good in just about everything and she's finding plenty of good in

Manteo

!