Um. Hello?

Is it safe for me to to stick my head back out? (smile)

Thanks for the very spirited welcome I received when I returned from our house hunting trip last night. It's always interesting to read the wide variety of opinions and thoughts represented by my diverse and wonderful family of readers.

I'm not going to spend a lot of time on yesterday's comments since I have plenty of cool stuff to write about today but I did want to briefly touch on a couple things.


First, the fact was mentioned that we don't even have the job in Manteo yet.

Yes, that is true that we haven't been officially voted on. However, since the chairman of the church board is the one who actually recommended our realtor to us and who also invited us to stay overnight at his house during our house hunting visit, we get the impression that that he feels like it's a good idea to start that process. And so we did!


Also, someone else wondered why Steve and I haven't been working the past nine months and also wondered if working "regular jobs" wasn't appropriate for a pastor and his wife. That's a great question and I'm glad you brought it up.

I actually had to smile a bit when I first saw that particular question because I mentally went back over the list of some of the jobs Steve and I have worked in past years. They have included (between the two of us) cleaning hotel rooms, cleaning houses, selling shoes, working as a mechanic, being a switchboard operator, and working as a forklift operator. Since several of those jobs were held while we were in the ministry and needing to supplement our income, I guess you could say that we don't find many jobs to be inappropriate for ministers. Of course, we really have to draw the line at drug dealing and bank robbing. (smile)


Shortly after Steve resigned last November, we both signed up at a couple temp agencies in the area; unfortunately, at that particular time, the agencies were getting slammed with twice as many applicants as usual and half as many jobs available.

Steve also put in an application at Lowe's Home Supply store and both of us put in a couple applications at other places. He spent quite a bit of time going to meetings and gathering information about being a substitute school teacher but that field (in this county, at least) is woefully overcrowded. A bad economy coupled with the fact that we were never sure how long we'd be able to work before our move didn't help us out any in the job searching process.

However, since my voice has started recuperating a bit more in the past few months, we have been able to travel a bit more to various churches to sing and preach. That has brought some income in for us, which we've been very grateful for. In the meantime, we continue to live mostly on an equity loan and we also continue to embrace all the joyful challenges of living frugally. (My family calls me the "Queen of Leftovers.")
______________________________

Alrighty then! Now let's go back to our regularly scheduled programming which will first of all include a couple of "funnies" from our trip:


First funny:

As we were looking through one particular house Tuesday, I happened to glance over at the phone on the wall. Taped up next to the phone was a hand printed index card with these words:

"No, I'm sorry I can't donate this year. My wife won't let me."

We all got a good giggle out of that, including the realtor.


Second funny:

When we were driving to the chairman of the board's house on Tuesday evening, Steve decided that since he had already met his wife briefly before, he would be a helpful husband and fill me in on the few thing that he knew about her. And one of those details just happened to be that, "She used to be a man."

Steve said that sentence so casually and matter-of-factly that I really didn't quite know what to say. I opened my mouth a couple of times to reply but no response I could think of seemed quite appropriate.

After a few seconds had passed Steve continued his explanation, "You know, from the Mann Family that Mann's Harbor was named after?"

Ohhhhh! Mann was her maiden name. The light dawned!



After we looked at a few houses on Tuesday, we took an hour or so just to wander around the waterfront area.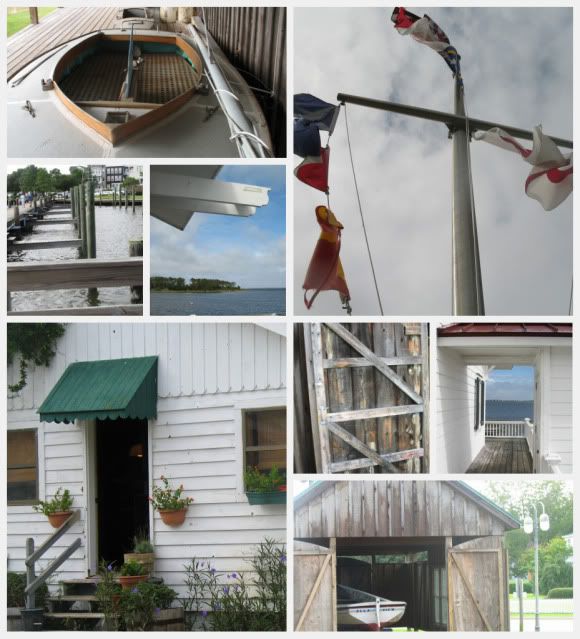 Then there was the daddy/daughter walk down the pier

To the rocking chair area . . .

The daddy/daughter rocking chair area

After that, we decided we could use a little snack so we drove a mile or two to the Front Porch Cafe. As soon as I walked in and saw the interior, I fell in love. Cool, creative, artsy, whimsical, plus it smelled great and played Jack Johnson music. What's not to love?


Well, besides the fact that I hate coffee and they mainly serve coffee. But still, it was a wonderful place!




From there, it was on to the home of our hosts to meet the lady who "used to be a Mann."


This is a picture of Steve's and my sleeping area. Lovely and peaceful.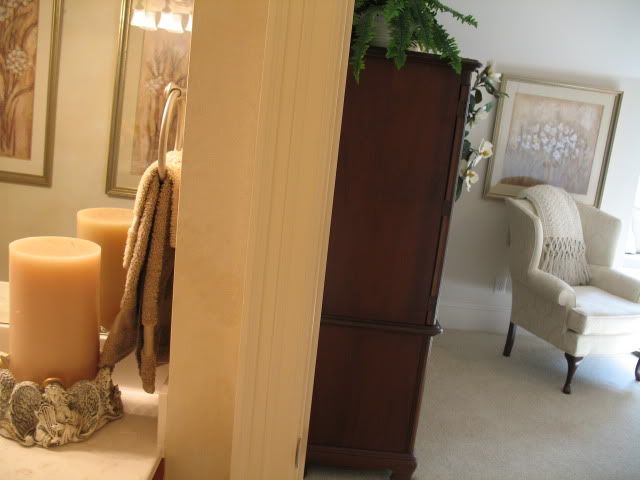 We had two arrangements of fresh flowers from our host's garden.

One in the bathroom . . .




Another in the bedroom.




And outside our bedroom door, we had this lovely view.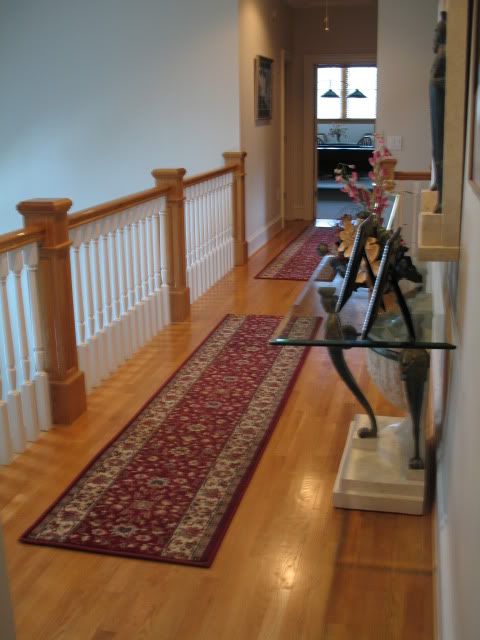 For dinner, they served us grilled steaks and I must say that they were very close to being the best steaks we have ever had.

And because you all are such wonderful and lovely blog folks, I got permission to share the secret recipe with you. It is "beyond words wonderful."

Part of the secret seems to be to always let steaks come to room temperature before grilling so that you don't "shock the meat." Sprinkle the steaks with meat tenderizer and then let them sit out on the counter for a couple of hours in a bath of Worcestershire sauce. (Of course, you could also add whatever spices you like.) Turn them every once in awhile and sprinkle with more tenderizer. And grill.

Absolutely amazing steak!

We got home last yesterday afternoon, pretty well exhausted. Steve had just a short while to catch a cat nap before eating a bite of dinner and heading right back out the door to speak at an area church. (He's doing their Wednesday night teaching for the month of September.)

I went to bed pretty early, slept well, and am now gearing up for our trip to Florida where we will have a service Sunday morning and a service Sunday night. Yikes. My little ol' voice will get quite a workout with two concerts in one day.

Well, that's it for now! I hope you all have a wonderful day and as always, thanks so much for stopping by. I appreciate each one of you!