I'm a bit glum today. A bit overwhelmed.

The older I get, the longer it seems to take me to recover from those really long road trips. That's really sort of disheartening since I used to do them all the time and never even had one teeny twinge of after effects from them.

Does that mean I'm not as young as I used to be?

Don't answer that.

This is also the first full week that Sarah has been doing school. I was about to get all the curriculum ordering finalized back in August but then Dad got sick and we had all the busyness of first traveling to Manteo for our interview and then traveling to Wisconsin for Dad's funeral.

As a result, I got a bit behind in the educational process and the box of books didn't arrive till last week, right before we left for Florida. This week, in my weary, travel-befogged state, I've been digging through everything and trying to get Sarah going as quickly as possible.

She took some placement tests before we ordered and they indicate that she is at a fifth and sixth grade math level. (This does not mean that she will cover single part of those grades; just the portions she's weak in. After getting through those, we can move on to the next level.)
She and I had some time to talk about all that today; I stressed to her how important it was going to be to spend extra time on math every day so that we could work our way through the backlog and start working toward getting back to grade level. It may even require summer school and a math tutor next year, but she's got a good work ethic and the determination to "git 'er done."

I'm just a bit overwhelmed by the responsibility involved in being in charge of my daughter's education. I knew, of course, when I made the decision what would be involved because I've home schooled both kids before. But it's just going to take some extra getting used to, on top of the other upheaval in our lives with housing/moving/job/ministry issues to be settled.

And as the last straw, after having a wonderfully clear, strong voice the whole time we were in Florida, the last couple of days I've been reduced to croaking again. I had laid off my steroid inhaler (for my lung disease) while we were in Florida, because that tends to affect my voice. Since we've gotten home, and I've started back on the inhaler, my voice has gotten very weak and my breathing has also become more difficult.

We're traveling to Charlotte this weekend to sing, so this not a real great time for my physical maladies to pop back up. I was just doing so very well that I had myself convinced that maybe I was making some overall improvement.

I guess not.

Well, I guess it's probably about time for me to stop my moanin' and groanin' and talk about something a bit more cheery.

For your viewing pleasure, here is a collage of the Plaid Shorts Fellas at Nathan's college. Don't you love the shorts? And the scenery?




Here's a bigger picture so you can see the background a bit more.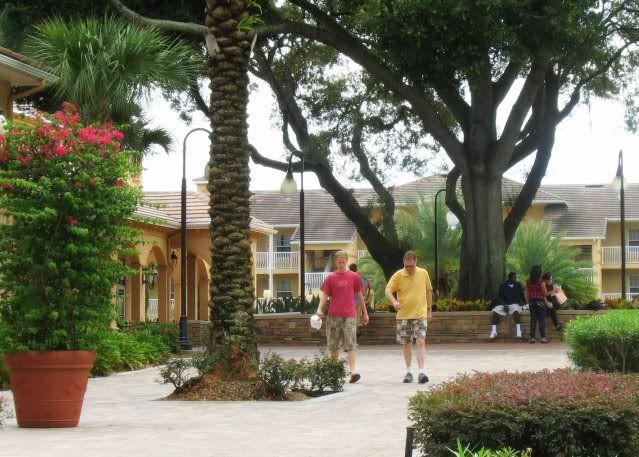 It is such a peaceful campus and they have music playing all the time; it's really, really lovely.

And speaking of lovely, while we were on campus we got a chance to spend a few minutes with an old (albeit, never before met) friend.

Staci was at a church we sang at in Cumberland, MD about eight years ago. When Sarah was diagnosed with cancer, Staci's church was very faithful to pray for Sarah. She has been a frequent signer of Sarah's Caringbridge page and she and I have emailed each other over the years.

She's at Southeastern on a piano scholarship; she also plays sax in the school's jazz band and will be performing for George and Laura Bush when they come to the school in March to speak at a huge leadership conference Southeastern hosts every year.

Anyway, it was great fun to finally meet her in person, after "knowing" her for so many years. She is a charming, smart, talented young lady who has also been brave enough to "take on" Nathan in several sports. (smile)

In the picture below, please pay no attention to the crooked state of my bangs. It is obvious that I have not perfected the comb over technique.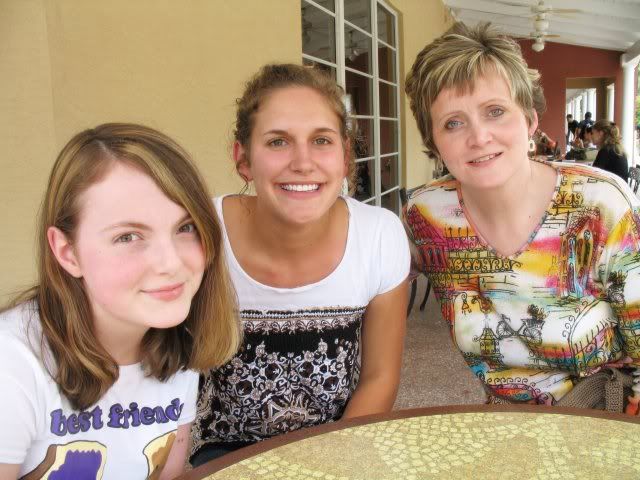 While we were on campus, we also got to see Nate's room and meet a few of his pals.




Michael is on the far left in the orange; he went to Israel with Nathan last year and the two of them are best college buds. I can't remember the fellas name on the other side of Nathan but he is studying Practical Theology and wants to eventually live in a large city and minister to the homeless. The guy beside him is Arlen, Nathan's roommate.




It was great to see Nathan looking so happy; he really does love being at school and I love the fact that he loves being there. (Even though I miss him entirely too much.)

It also comforts me greatly that he has the Hawley family so close by; if he ever has a crisis of any sort, he has people who are the next best thing to family just fifteen minutes away.That's a very good thing for this mama to know!

Well, I think that about covers it for today. I aplogize for not being Miss Pollyana but it seems as thought being recently bereaved, on top of fatigue, physical maladies, and an up-in-the-air future have conspired together to make me feel a bit glum.

I'll try to unglumnify myself by tomorrow.

I promise.