It's Friday so it must be time to go to Manteo! But of course we can't leave until I first do my Frenzied Packing Routine. And write a blog entry.

I had planned to post a cute video today that Sarah and I made together (featuring Snowy, Sarah and me) but I'm having a technical difficulty which I wondered if any of you techies could help me out with.

We made the video in Windows Movie Maker (an older version) adding music to the little bit of dialogue that was already present. When I saved the movie to my computer and played it there, all the elements were intact. However, when I tried to upload it to Blogger and You Tube, the music soundtrack disappeared just leaving the dialogue. (The song is royalty free, by the way, so I do have permission to use it.)

Does anyone have any idea why that is happening and what I can do to fix it?

Thank you very much, in advance, from this non-techy gal.

______________________________

Recently I spent a little time messing around with some editing on the Smithellaneous logo. Aren't these fun?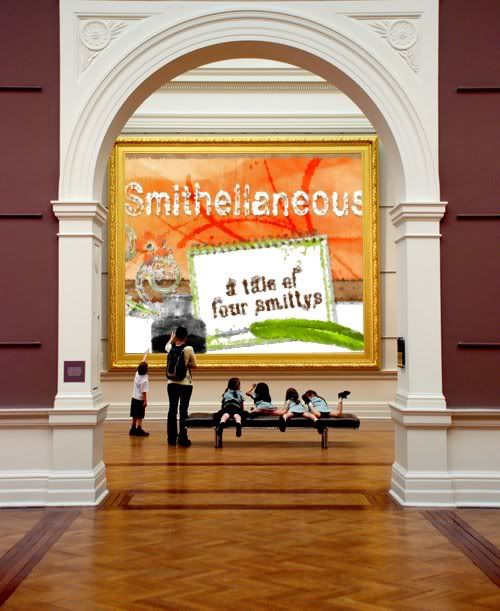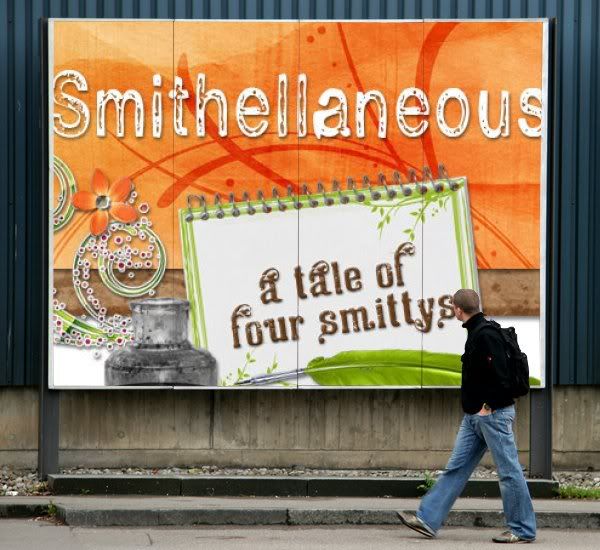 I also ran across this miscellaneous picture of Nathan in my file searches and it made me miss him frightfully.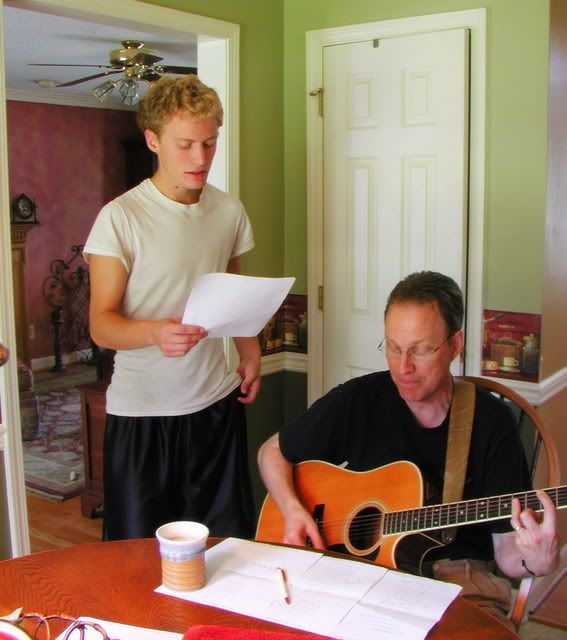 I'm missing him especially right now because he called us yesterday to tell us that when he went to donate plasma yesterday, the medical tech listened to his heart for the longest time. He finally put away his stethoscope and said, "I'm sorry you can't donate plasma because you have an irregular heartbeat. You need to go see a doctor for a complete check up."


What's THAT all about? We've never heard anything about an irregular heartbeat before now!


Of course, being a mom, I had to immediately jump into Worried Mother Mode. Because that's what moms do.


He called to tell us that news and also discuss how to deal with insurance issues when he goes to the doctor. It really seems like he's a true grown up now, going to the doctor without a parent in tow.


Thankfully, he's coming home at Thanksgiving for about a week so I'll be able to ply him with hugs and chicken soup. Moms can cure a lot of things that doctors can't.


__________________________


Okay. I promised a recipe in the title of this post and a recipe you shall have. I realize that my Tortilla Thingy recipe I posted earlier was pretty simple and basic and that you all are probably just yearning for something with a couple more steps.


This recipe (which I got from Steve's mom years ago) is delicious and takes less than fifteen minutes to make. I'm sure you could substitute shrimp for the chicken if you want, but I'm not a real pro on cooking shrimp so I wouldn't know how to tell you to do that.


And Sue, this recipe contains NO cheese or sour cream!

Chicken Scampi (A Smith Family Favorite)

1/2 C butter
1/4 C olive oil
1/4 C chopped onion
1 T minced garlic (I use garlic from the jar)
Juice of one lemon (or 2 T. reconstituted)
2 lbs boneless chicken breast, cut into 1/2 inch pieces (Can use more or less chicken)
1 t. salt
1/2 t. pepper
1/4 C minced fresh parsley (I just sprinkle in some dried parsley for color)
1 tomato (fresh or can use diced tomato from can)


In skillet, heat butter and oil. Saute' onion and garlic briefly. Add lemon juice, chicken, salt, pepper and parsley. Cook, stirring frequently for 5-8 minutes or until chicken is done. Add diced tomato and heat through.


Serve over noodles and rice. About 4 servings.


How simple is THAT?


And while we're on the subject of cooking, someone in the comments a few days mentioned that she didn't spray her non stick pans with Pam. It seems to me that I've read something about that in a magazine but I can't remember all the details.


Do you spray you non-stick pans with Pam or go Pam-less?


This inquiring mind wants to know!