I promised a recipe and a recipe you shall have.

I've even managed to include a couple pictures of my lovely cooking assistant, Sarah Smith.

Shall we begin?

Or . . . hmmmm . . . . shall we take a nap first?

I suppose I'd better go ahead. However, if you'd like to take a nap first, please feel free.

Our family has been enjoying this recipe for years and years; it's especially fun to serve to kids but grown ups love it, too.

Barbecue Cups

3/4 lb. hamburger (may also use ground turkey)
1/2 cup barbecue sauce
1 T. instant minced onion
2 T firmly packed brown sugar
10 oz. can refrigerated biscuits
3/4 C shredded cheese

1. Heat oven to 400 degrees.

2. Call daughter and dog downstairs to help.


3. Grease 10 muffin cups

4. Brown ground beef; drain.

5. Add barbecue sauce, onion and brown sugar.

6. Separate biscuit dough into 10 biscuits. Place each biscuit in muffin cup, pressing dough to cover bottom and sides. (Make the dough on the bottom pretty thin, even thinner than shown in the picture.)

7. Take pictures of lovely kitchen assistant carrying out your instructions.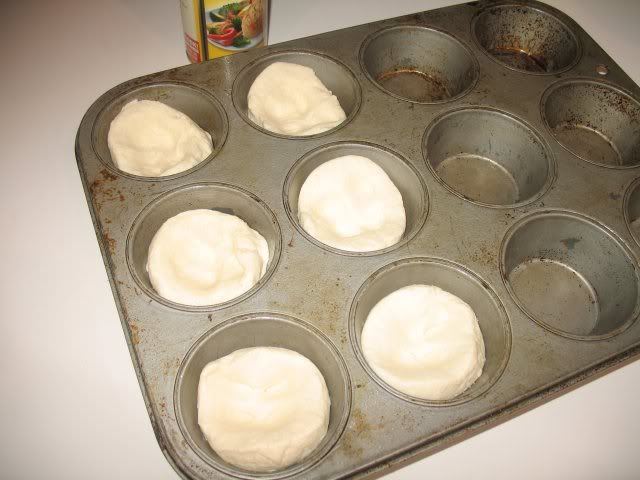 (By the way, the picture only shows us making six of the cups instead of ten. It's a long story.)

8. Spoon meat mixture into each cup.

9. Top with cheese

10. Snap picture of cheese topped meat mixture that was spooned into cups made of biscuit dough placed into muffin tins. (Whew!)


10. Bake at 400 degrees for 10-12 minutes. Remove from oven.

11. Take another picture so that you can ooh. And ahh.



12. Loosen with spatula, remove from pan. Serve immediately.

13. Take one more picture.




Sit down and eat.
____________________
NOTE: If you want a tasty variation of this recipe, take the meat mixture and instead of putting it in the biscuit cups, make a quesadilla with it, placing the meat and cheese between tortilla shells and grilling in skillet. (Flipping once.)

Cut up and serve with salsa. It's really, really good!

Sometimes I double the meat portion and use half of it for the barbecue cups and I freeze the other half to use down the road.

Enjoy!
____________
Here are a few variations that came in after the recipe was posted.
1. I tried the crescent roll variation. It was great (though a bit awkward to line the muffin tin with the triangular piece of dough).I also tried a second variation in that I used homemade Italian meat sauce.

Now I am imagining all sorts of variations on this theme: eggs and ham; chicken with cream sauce; tuna and vegetables with cream sauce; baked beans and sausage; chili; fruit served with ice cream. YOWZA! ---GS in Canada

2. Regarding using crescent rolls: I read on a blog (I don't think this one but maybe) a recipe called chicken bundles. I wonder if you could use the crescent rolls, and the meat filling to make these. I think you would use the equivalent of two rolls (so you have a square of dough), plop some meat mixture in the middle, and bring the four corners up to the top and tie them together. That would make them somewhat like a piroshki. ---Elaine

3. I have a great idea for your bbq cups. Line the pan with paper liners that you use for cupcakes, then add the biscuit and all the other ingredients. I think that may work, and cut down on it sticking to the pan and the messy clean-up? --Haley