For an Exciting Blogging Change of Pace, I have decided to start with some pictures instead of putting them in later.

Can you stand that much excitement on a Tuesday morning? I guess we'll find out.
A very sweet Smithellaneous friend sent Sarah and me a couple boxes of clothes that she and her daughter wanted to "repurpose." As you know, Sarah and I are always very happy about repurposed clothes. Here we are, purposefully parading a pair of repurposed pieces. (Try not to spit when you say that.)
First, may I present to you the posed pose. (Please overlook--if at all possible--the fact that most of my make-up had deserted me by that point in the day. Thank you.)
And in the following pictures? The normally calm Smith women get all crazy. And wave their arms. And everything.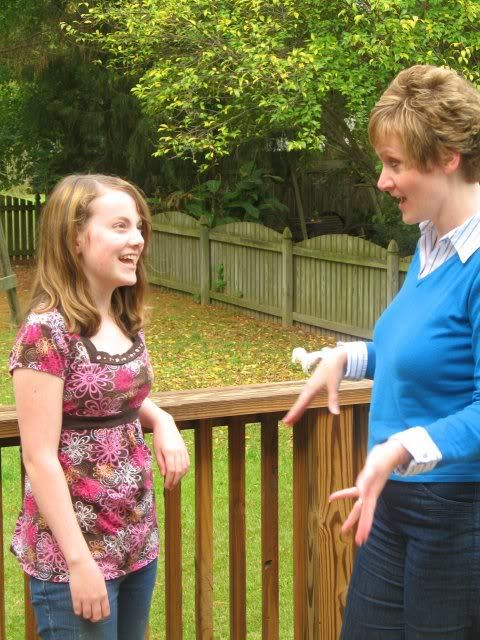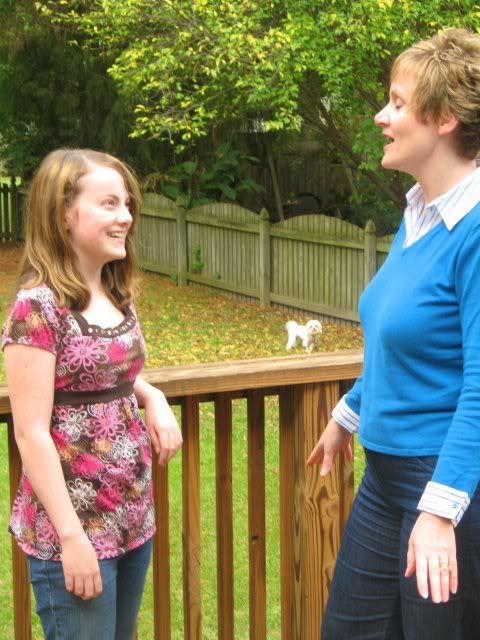 There now. Wasn't that exciting?
We had a fun weekend in Manteo. Saturday night was a Family Fun Night at the church with games, hot dogs, karaoke and a wide variety of tempting sugary confections. I played a few games and made a most memorable showing, missing three out of three tries in the ring toss. The church people are now all assured that their new pastor's wife is not ever going to become an Olympic caliber ring tosser.

However, they do know that she is an Olympic caliber eater of desserts.

I mean, everyone has to find their gift in life and practice it and I must say that in that area, I am highly accomplished and extremely skilled.

Ring tossing? Not so much.
____________________
If you'll look in the right column, you'll see a little survey that will take about 7 seconds of your time. I'm just curious as to how many readers who stop by here who have never commented.
And if you have commented? Even once? I'd love to know that, too.
Thanks so much for participating in the 7-second survey.
____________________
Later in the day: Another Smith Family Recipe Favorite.