On Wednesday, Sarah was the very first person to use our very own personal key to unlock our very own personal house.





We then took the new house tour.




Sarah in her room.



Steve "stepping it off" to see how big her room is. Steve is uniquely qualified to step things off because his feet are exactly one foot long. And since he does have feet that are one foot long, if he were to eat a foot long hot dog, he would be "the man with the one foot long feet eating a foot long!" What a feat! (Yes, my brain is tired. Why do you ask? )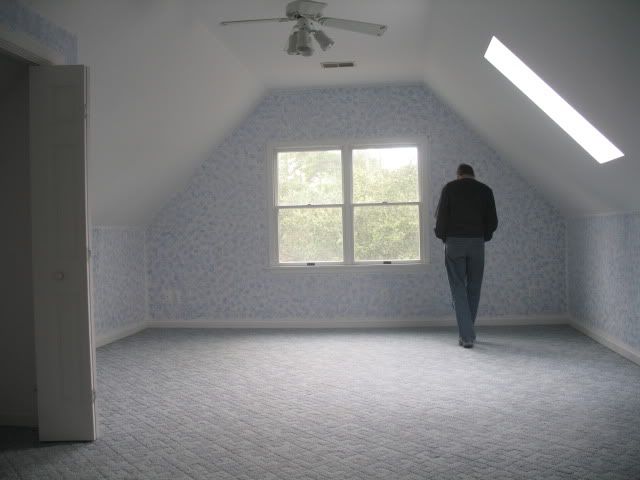 After awhile, Sarah informed that she was going to be the first person to use the bathroom in the new house. I said, "Would you like me to take a picture?"

This is the look I got.



So that was Wednesday.
Yesterday, the real work began. The Big Moving Guys arrived and started unloading 13,000 pounds of stuff. (And yes, that is the actual verified amount.)

So with all that stuff to deal with, why is this woman smiling?

I was smiling because it was still early in the day and I wasn't yet in a box-befuddled state of mind.





The befuddlement is starting to settle in.




And then I stopped smiling altogether shortly after I took a long look at all the boxes and more boxes. And more boxes. And more and more boxes. Have I made myself clear that were a lot of boxes? Because there were. A lot of boxes. A lot of lot of boxes.




The boxes overwhelmed both sides of my small brain.

Oh look! More boxes! May I go lie down now?



And even when there were no boxes readily visible, there was still Stuff To Be Done. Oh my aching back. Oh my aching brain.



About halfway through the day, the three Big Mover Guys realized that Nathan's queen sized box spring would not go up the stairs. (The stairs turn halfway up so it's a bit of a tight fit.) Steve's and my king sized bed went up for reasons I don't (as a woman) readily understand. Something about the king sized bed bending? I really don't know. I'm still zoned out in Box World and cannot think clearly about most things.

The Three Big Mover Guys pondered the immovable box spring conundrum for quite some time and finally came up with . . . well, not much. One guy said he and his partner have been moving furniture for eight years and had never before come up against this sort of problem.

Enter my husband. The man who thinks outside the box as a matter of course. He came up with a plan (which of course my box-befogged brain does not understand) having to do with taking the box spring partially apart so that it could bend more. And it made it with less than 1/4 inch to spare!



In this picture, I do realize the guys are carrying a mattress and not a box spring upstairs but it was the only picture I could come up with.




When Steve wasn't busy reconfiguring box springs, he launched into the scrubbing of the floor. The place where our washer and dryer was supposed to go was quite dirty and since we had no mop (and since I can't get on the floor without having to have a crane come in to get me back up) Steve spent twenty minutes cleaning the floor the old fashioned way. Is he a keeper, or what?




In light of all the boxes and mess that currently inhabit our lives, we are ever so thankful to have another (well ordered and lovely) place to go to for sleeping and eating purposes. If we'd had to sleep in that house last night with chaos reigning supreme, I may have been pushed over the edge into Box Induced Insanity. (And believe me, that would not be pretty.)

As it is, we can rest in a chaos-less place and then attack the boxes in a refreshed state every morning. In fact, we're going to be heading over there again today in a few minutes and will probably spend 10 or 12 hours working. I'd better have lots of chocolate to keep my spirits up!

We know that we are really going to love this house and especially love

Smithifying

it. Our only drawback at the moment is that we can't do any improvements to it since we're just renting it until our house in

Smithfield

sells. The house desperately needs carpet--the carpet is very old and very blue and we have absolutely no blue furnishings. It also needs to be painted on the second and third floors. (The third floor is the bonus room where Sarah's bedroom is.)

So in the meantime, we'll just move in and close our eyes to the very scratched walls and the very worn out carpet. And then when each small improvement comes along, we'll just appreciate it all the more!

And speaking of appreciating something, on Wednesday after the three of us had spent several hours at the house unloading our two vehicles and putting stuff away, we went back to our borrowed cottage to try to muster up enough energy to fix something for a late lunch. Suddenly, there was a knock on the door and two ladies from the church walked in bearing an entire meal! Hurray!
And then last night after our very long day of moving, another family in the church brought homemade beef stew, rice, homemade bread and a made-from- scratch chocolate meringue pie.

The three of us gulped that meal down as though we hadn't eaten in days. It was exactly the right kind of food to eat at the end of an exhausting day--delicious, comfort food. The family also brought two other meals to eat later on when we don't have time (or energy) to cook. We are just overwhelmed by such thoughtfulness and generosity.

It is quite a privilege to be putting down roots here in Manteo and every box we unload digs the roots a little deeper.

And that's a very good thing.