Well, after my busy blogging day yesterday (featuring three posts and 9.5 billion pictures) I'm sorta "news deficient" today. I slept eleven hours last night which was quite lovely since I'm a little headache-y and nauseated today, probably from the dual flu shots yesterday.
I allowed Sarah to get a later-than-usual start on school since she was also exhausted. Right now, she and Snowy are hard at work at taking a brief break. Can you tell what a tense and uptight dog Snowy is? The poor guy just needs to learn to relax already!
I so appreciate everyone who has dropped by the site and rejoiced with us on our good news from yesterday. It really was a wonderful day! I'll have a few more Duke pictures and news posted on Sarah's site over the next couple of days since "Sarah Smith Day" here at Smithellaneous is now officially over.
This morning Steve called our real estate agent to lower the price on our house yet again. We are now $30,000 less than what we started listing it at. Oh well. You do what you have to do!
The College Dude called me last night--oh happy day. Whenever he calls, I drop whatever I'm doing and put on my College Dude Listening Ears. Last night, the thing I dropped (figuratively, not literally) was dinner prep. I let the sloppy joe mixture just sit and congeal on the stove because congealed sloppy joes are a good trade off for a College Dude Conversation.
Nate is still working on finding a job, without a whole lot of success. He interviewed two weeks ago for a position having to do with tutoring but hasn't heard back yet. Unfortunately, the job would only provide 2-10 hours of work a week, which isn't quite as much as he needs but it would still be better than nothing.
I asked him last night if he wanted us to post his electronic drum set on Craig's List and he said that he would. So in a little while, I'll take off my Homeschooling Hat and put on my Craig's List Poster Hat and see if I can rustle up some moola for him.
He said he's getting all A's and B's at school (which is good for a junior, when the classes get a lot harder), and he's going to church faithfully and moving into some leadership areas there. He sounds happy and busy and very much invested in the life he is making for himself there.
When we finally hung up, I went on to eat my congealed sloppy joes with a happy heart. Nothin' does a mama's heart as much good as a long distance phone call from a much missed son.
He and Meagan will come home (very late) the Friday before Thanksgiving and will stay about ten days. I am going to work their poor little ol' fingers to the bone and when the week is over, they will flee with great relief back to Florida where their busy schedules will seem like nuthin' compared to what I am planning on putting them through. (Insert evil laugh here.)
Um, Nathan or Meagan, if you're reading this? I'm just kidding.

And if you're NOT reading this? I seriously mean it!
They will also get to go to Manteo with us the Sunday before Thanksgiving (as well as Steve's parents) for Steve's official installation service as the pastor. It will be nice for them to get to see the town and the church, and also nice for the church people to get to meet some of our family.
We'll probably have our Thanksgiving "unfeast" back in Smithfield on Monday or Tuesday evening and then on Friday, we're going to have Meagan's family over for lunch, since they're also visiting in the area from Florida.
Of course, in between all of that coming and going, we will be frantically packing. And also unashamedly overworking two certain college students who are (hopefully) not reading this post.
And since I've talked about the College Dude in this post, I'll post some picture of him--from past days-- at the end of this update so that we can all remember what he looks like. I realize he doesn't show up around here much these days so I think it's high time for another College Dude sighting. (There's one picture in particular that you MUST see as he's being kissed by an older woman. Not me.)
_______________________
I'll close with a couple comments/questions that have come in.
After leaving a very sweet comment, Jenna from Canada added this postscript:
Q. I hope you don't mind me reading your blog since we don't know each other. I just sort of stumbled onto it- and was so captivated and encouraged by your words that I now read your updates daily!
A. Jenna, of COURSE we don't mind you reading the blog. We are thrilled to meet new friends from all over and are happy you've stopped by! Welcome to the Smithellaneous Family!
Q. Does Sarah have a bathroom up on the 3d floor? Is it a 2-car garage and is that the laundry room between it and the front porch. --Anon
A. No, there is not a bathroom on the third floor but that is sure something we'd like to add at some point, especially for when we have guests. In the meantime, she has her very own bathroom on the second floor. (Except of course when the Annoying College Dude comes home and then she will have to share with him.)
The garage is only one car. When we get all the moving stuff out of the garage, Steve has gallantly said that MY car could be one to be in the garage. Isn't he so nice?
And yes, the laundry room is between the garage and the front porch.
______________________________
Alrighty. I'm off to have some lunch and get a few things organized for the weekend. We didn't travel to Manteo today (as usual) because of our long day yesterday. We'll head out early tomorrow morning.
Happy Friday!
____________________________
Very miscellaneous pictures of Nathan
In Hawaii on Sarah's Make-A-Wish trip.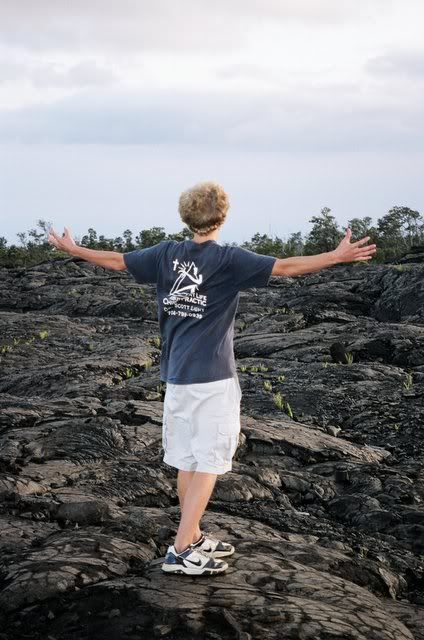 His very first "real" check from a real job.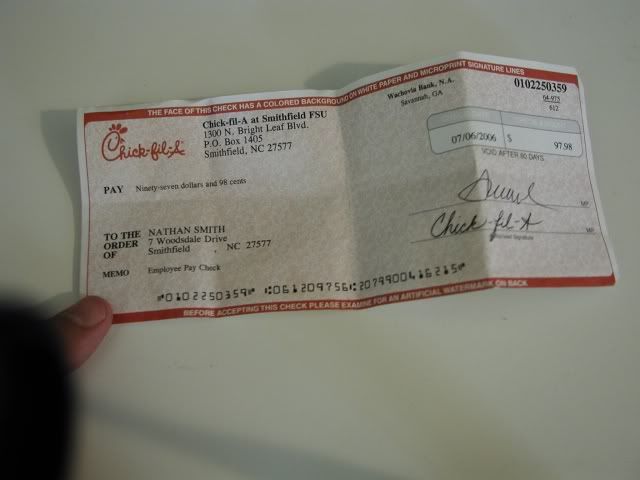 The College Dude and his favorite dog.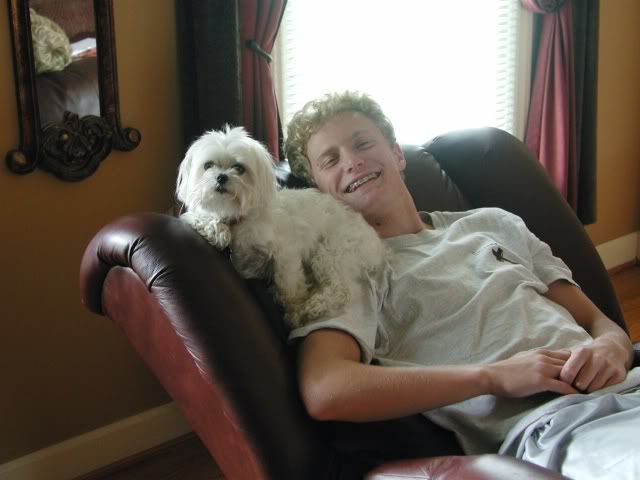 On a missions trip to Ecuador.
High school soccer
In the studio. For his senior project, he wrote, recorded, played drums on and sang on a song.
Right before leaving for his junior year of college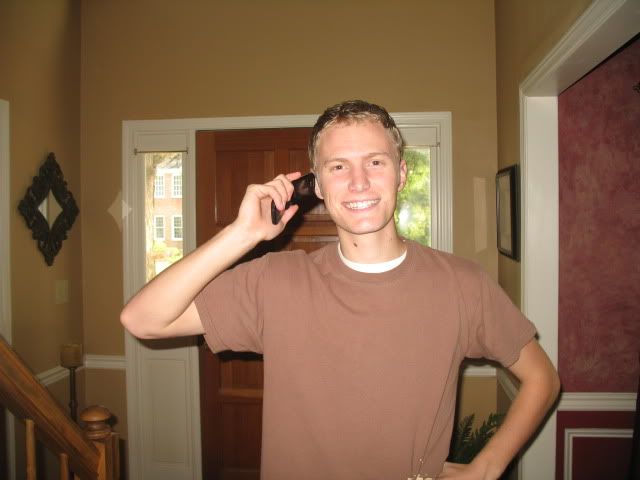 Speaking to his youth group about his trip to Israel
Helping to stain the deck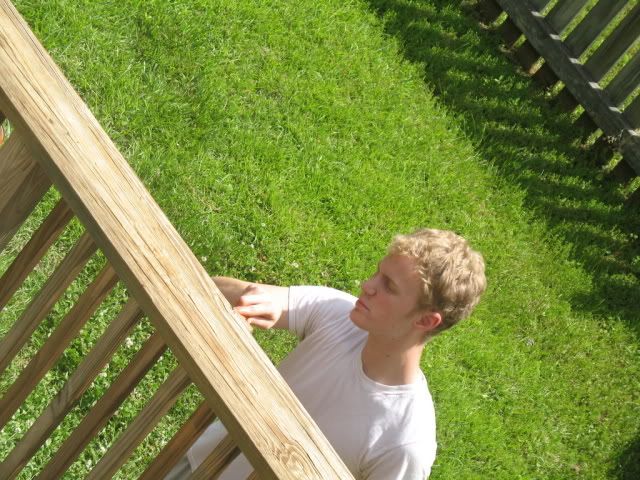 On the Sea of Galilee.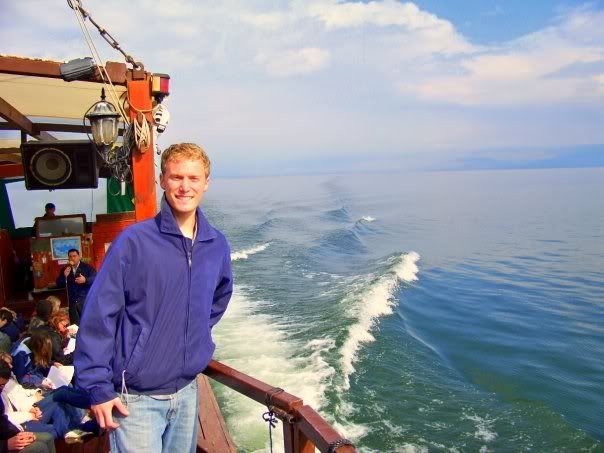 About to be kissed by a much older woman. I LOVE the alarmed look on Nathan's face.