Steve has never loved heights.

In fact, here is a recent Facebook entry from him on the subject:

"Years ago, Becky and I visited the Sears Tower in Chicago. I was so certain that I could feel the thing swaying that I walked around paranoid. Getting up on ladders is not my idea of a rosy old time but today I got up on our 18 ft ladder to repair and paint a second story window frame. And all without Valium! Let's hear it for small victories. Only have eight more upstairs windows to go!"

Since he's never loved the idea of getting up really high, when Nathan came home for Christmas, HE was the one who scampered up the ladder to hang these really high Christmas lights outside. Nice having a scampering son around!


We also sent him "up high" to do some indoor maintenance.



Well, this week Steve decided it was time to fix a few of the old boards under our windows, some of which were on the verge of rotting. He pondered his fear of heights. And then he pondered the thought of bringing in a carpenter to do the work and charging us hundreds of dollars.

And then he pondered the thought that saving several hundred dollars was a really good incentive for getting over his Ladder Fear. So. Up he went! Higher and higher! All the way to the top of the window at the far left of this picture. (Nathan's room.)



He chipped paint and applied paint with the greatest of panache and then returned to earth with the greatest of grins on his face.

Conquering a fear and saving money, all at one time? Priceless.

Unfortunately, I don't have a picture of him going up to the highest point, but Sarah and I did get some pictures of him last night on a lower ladder.




Concentrating fiercely



Displaying the Official Smith Tendency to stick out his tongue when thinking hard.



Suddenly realizing his picture is being taken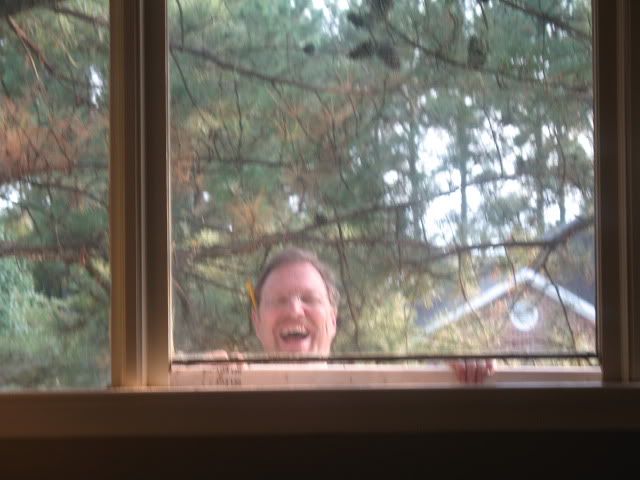 A final view of my Ladder Climbing Prince Charming!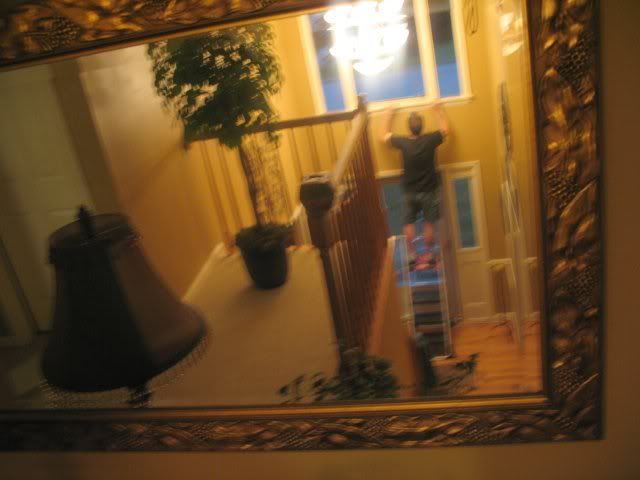 How about you? Have you ever conquered a fear? If so, we'd love to hear about it. Maybe you can help someone else get over something similar.

______________________________

In about two hours, I need to be packed up and ready to hit the road. First stop is driving 45 minutes west to take Snowy back into the hospital to have his sutures looked at. Then four hours east to Manteo for the weekend.

I'll be in touch!