Suture-less Snowy! Cone-less Snowy! Happy Snowy!

Yes,

indeedy

. When we took Snowy to the hospital yesterday, the nurse took him to a back room and when she returned him to us five minutes later, he was smiling a big

ol

' happy doggy smile, free of all those annoying, lingering encumbrances of his bladder surgery.

Hard to believe that just one week ago, he was in ICU, and not doing well at well. Now he's bouncing around with alacrity and flitting from place to place like a puppy instead of the (almost) 10-year dog he is.

We've been laughing at him a bit because while he was wearing the cone, his ears got all matted and mussed and now the hair on them sticks up everywhere and he looks just like a very small Phyllis

Diller

. He obviously needs to his hairdresser, er, groomer when we get home.

We knew for sure that he was on his way to recovery this week when he finally volunteered to go into his kennel on his own and take a little nap in it. Up to that point, he had to be glued to the side of one of us at all times; he was just so traumatized from all he had been through that he couldn't let us out of his sight. Yesterday, however, I was thrilled to see him walk over to his kennel, sniff it a minute, and then curl up inside on his pillow for a (solitary) nap. His little emotions are recovering along with his body.




It's been quite entertaining to watch him deal with that cone on his head all week. He made a couple of attempts to get up the stairs to the second floor but usually gave up and whimpered until the elevator (um, that would be me) arrived to ferry him up to the second floor. Every time he tried to go up by himself, he kept on whamming the cone into the next step and he just couldn't seem to get the hang of getting everything coordinated.

Here he is, mid-attempt.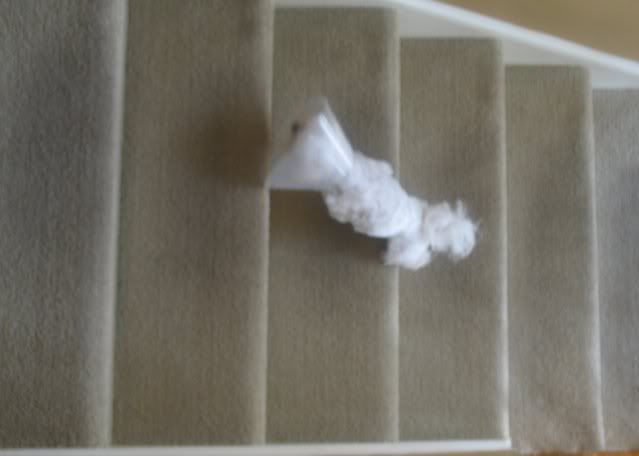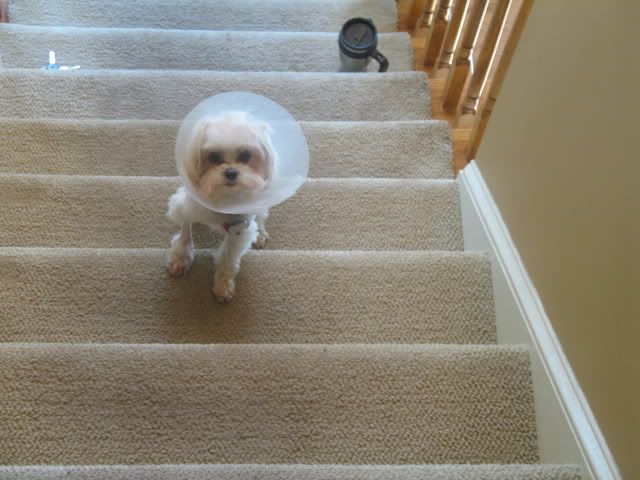 In this particular incidence, he actually made it about halfway before halting his efforts and crying piteously for assistance. When we get back home tomorrow, I imagine he will race up and down those stairs, just because he can.

Hurray for healed doggies!

____________________

In house news, we got a phone call late yesterday afternoon from our realtor in

Manteo

who told us that the deal has gone through on the house we've been looking at. This morning we signed all the papers, so unless something completely unexpected turns up during the pending house inspection, we will move into our "new" rent-to-own house on December 1st!

Another hurray!

Of course, I would be "hurraying" even more vehemently if our house in

Smithfield

had sold already, but I am definitely learning patience and trust in this whole process. I'm quite certain that God is not pacing back and forth in heaven, wringing his hands and worrying over the sale of our house.

And why is that?

Well, for one thing, God doesn't worry! And for another thing, he already knows exactly who will buy the house, and when, and for how much--and if HE knows, well then I guess my worrying is really pretty needless. However, I am SO GOOD at worrying that I really hate to let that "gift" go to waste! (smile)

_______________

Today, we have the whole day free here in

Manteo

so we might do something really amazingly different and unique and creative. We might Go. To. The. Ocean.

I hate to say it, but in seven trips here, we have yet to see the ocean. I mean, we assume it's still there and everything, and it doesn't really need checking on, but we still figure that maybe it would be nice if we went on over there (a whole ten minutes away) and took a peek at it.

We're going to take Snowy with us and see what he thinks of it. He's never see a whole, entire ocean before. Knowing him, he will probably bark at it furiously to see if he can scare it away. You know. The way he barks at squirrels and birds at home and makes THEM go away?

Must be nice to have such awesome doggy power.

We'll see how he does with scaring the ocean. We'll be sure to let you know.
____________________
Be sure to look at the post below for the second edition of Holiday Recipes from Readers!