Okay. Let me take a deep breath and try to gather my thoughts.
In between taking Snowy to the vet in Smithfield on Friday morning, racing him to Raleigh for surgery on Friday afternoon, traveling to Manteo on Saturday morning (with worried phone calls to and from the vet surgeon en route), having dinner with some wonderful Manteo-ites on Saturday night, doing rehearsal and service Sunday morning (with another phone call to the vet tucked in there), eating lunch with missionaries to India after church, doing the 3-hour drive home to Smithfield Sunday night, unpacking when we got here, doing a little home school, running to the hospital to pick up Snowy this morning, cleaning the house in a hurry and then leaving the house an hour for the showing this afternoon, I'm not sure whether I'm coming or going.
What I am sure about, though, is that having Snowy snuggled beside me in my chair while I type is worth a whole pot of gold! The poor guy is wearing a cone thing over his head (to keep him from scratching or licking his sutures) but he's keeping a good attitude about it and seems to be able to take naps and rest in spite of it.
Here are a few pictures from the day.

The first hug
(You can't see them, but there were some happy "other customers" and hospital employees looking on.)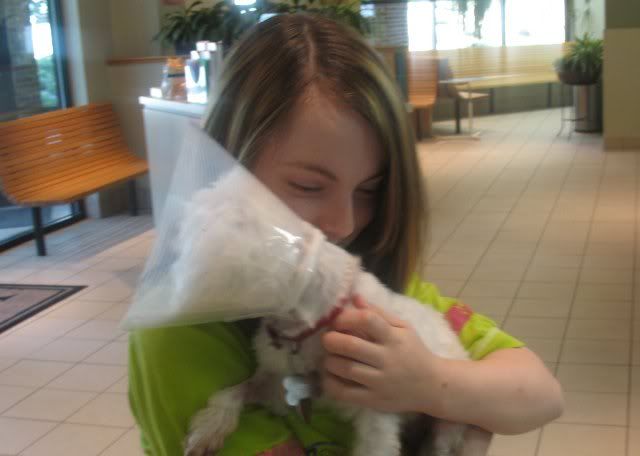 Snowy looks a little "mellow" because they still had him on some pretty strong pain meds.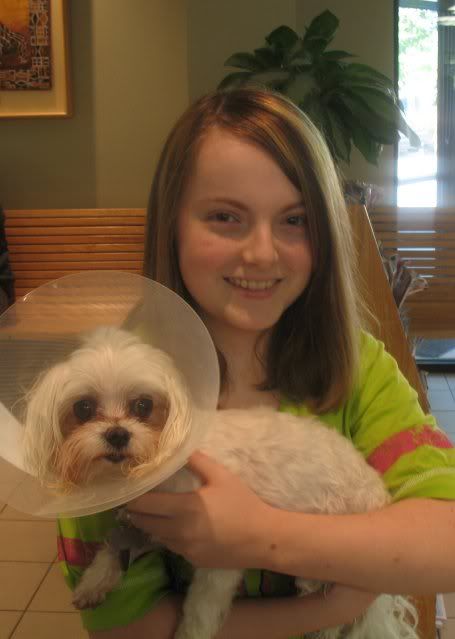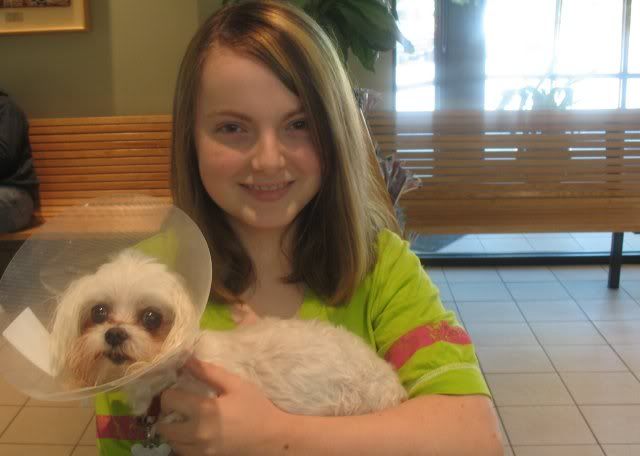 On the way home, I felt just like I was holding a new baby. I had his blanket along and he fell right to sleep in my arms, just the way a newborn would. And the funny thing is that the cost was sort of similar. (Well, it's not really funny funny, but you know what I mean.)
Out exploring the yard; you can see how thin he's become.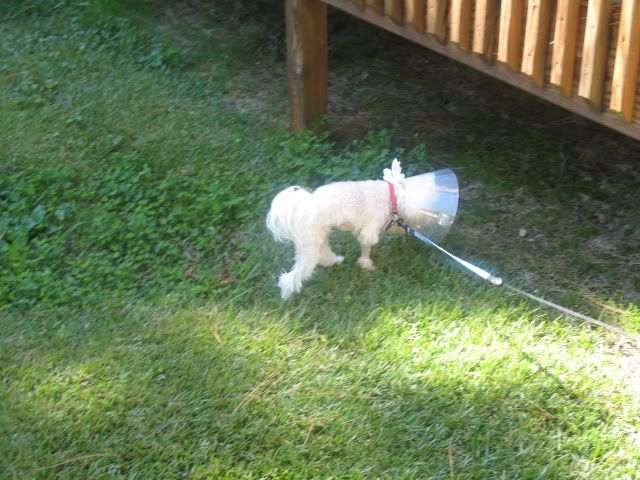 The plan for right now is to keep him on pain meds and an antibiotic around the clock and on Friday take him back to the hospital to see if his sutures are ready to come out yet. If they are, his cone can be taken off. If not, we'll check back in with them early the following week.
I feel so bad for him having to wear the cone; it makes eating and drinking quite a challenge!
Sarah is his official water bowl holder.
He's also not supposed to run or jump or do anything to disturb those stitches; unfortunately (or maybe I should say happily), he's starting to feel so good that running and jumping is just what he wants to do! It's going to be an interesting few days as we try to keep him quiet and feed him around that "alien cone" he has to wear!
Let me close by saying once again how blessed we feel to have our little friend returned to us; when the doctor called us on the road Saturday and said he wasn't doing well, I went into the bathroom at the gas station we had stopped at and just sobbed. It was unthinkable to contemplate him never coming back home again and even with all the extra meds and precaustions we have to deal with this week, it will all be a labor of love.
Snowy says thanks to all of you for your concern and your prayers. He also says to tell you, "I am one happy doggy!"
Here are our three kids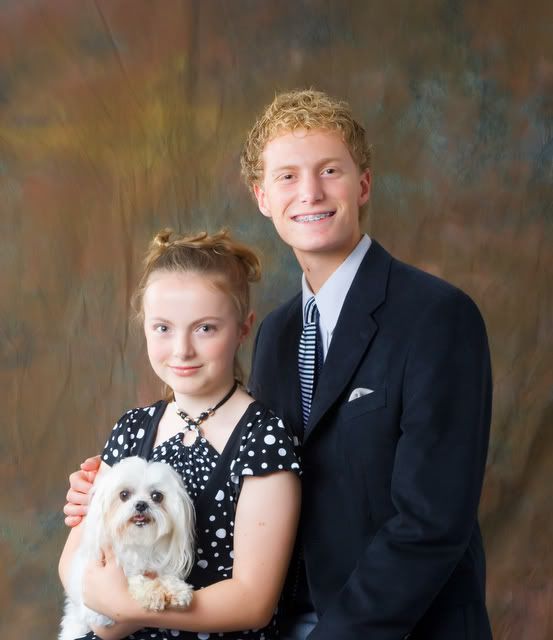 And this week's star of the Smith family