Well, whadya know? I actually have Internet this weekend. Hurray!
Sarah and Steve have gone off to an Elizabethan Tymes Country Faire where the featured activities are:
exploring the armaments of 16th century England

making your family crest,

seeing woodworking and blacksmithing

watching a falconer

viewing hobby horse racing

observing a knighting ceremony (Sarah was very excited about that)

watching a "battle" between Festival Park's Elizabeth II and The Silver Chalice.
It sounds like a lovely, lively time!
I have opted to stay back at our cozy borrowed cottage and hang out with me, myself and Snowy. It saves a little bit of money for us having to buy only two tickets instead of three and it also gives me a couple hours to enjoy the fabulous sounds of silence.
This morning we went back for a second look at a house we are strongly considering buying. Our realtor here has been wonderful and in his efforts to find a house that will work for us, has looked on every list, and in every data bank; he even went back and looked at lists of houses that had been pulled off the market, just to check and see if maybe the owners had possibly changed their minds and were planning on putting their home back up for sale. The house we're considering is one of those houses; it's not even on the active market right now so we'd be getting first dibs.
When we get back home Monday we'll talk to our banker and ponder and pray a bit more and then make our final decision. The best part about it is that they may allow us to do a "rent to own" agreement where we would only have to move once. That would be wonderful.
Okay, enough about boring house stuff. I'm going to close out with a few pictures I had posted on Sarah's site last year. When I ran across them again recently, I thought they were far too wonderful to only be viewed one time and then put into mothballs.
If you can look at these pictures without smiling, snickering, sniggering, or breaking out into uncontrolled guffaws, you have much more self control than I do. (These unfortunate photos were created at yearbook.com)
Sarah and me
Just me. Pretty scary, huh?
Um. This would be the groovy guy I married.
Mr. Groovy's daughter.
Mr. Groovy's son
And the Smith Dog Person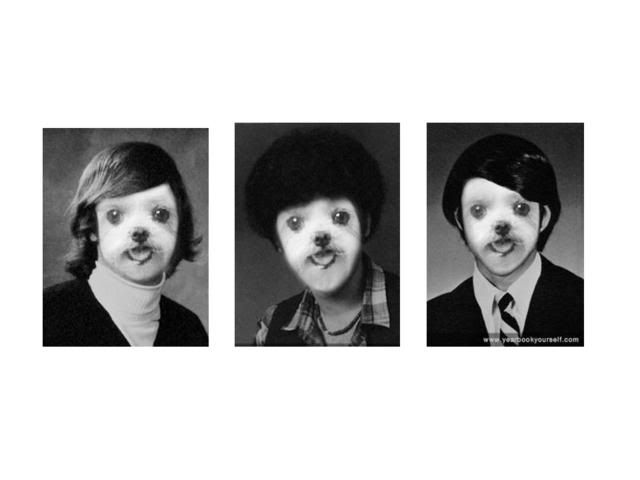 Okay, now go wash your eyes out with soap so that you can purge your retinas of those awful images.
Yechh.
It's funny to think though, that in about twenty-five years, the hair, glasses and clothes I wear today will look THAT bad.
Isn't that a lovely thought? (smile)