On our way home from Manteo Sunday night, we stopped at Pizza Hut for dinner. As we were waiting for our pizza, Steve somehow managed to spill an entire drink in his lap.

An. Entire. Drink.

Let me just say that it resulted in a very big mess and a very wet lap.

Later on in the evening, he and Sarah went into a convenience store to pick up a snack. The van was parked right outside the store so I thought I would take a video of the two of them as they came out, thinking that they wouldn't notice and I would have some sweet footage of daddy and daughter.

However.

As soon as Steve stepped out of the store, he noticed the little red light shining on my camera. Being the inveterate ham that he is, he immediately launched into a spate of Steven-esque spontaneous sanguinity and started "walking funny" because of his wet pants. (Although the light is not good, you can certainly tell what he is doing!)

Nothing quite like a public display of funniness to embarrass a teenage daughter!





In non-sanguine husband news, I've enjoyed seeing all the blog blurbs that have come in. It's not too late to put a blog link (and description) in the comment section. After a couple more days, I'll put all links into one post; that way they can be referred to at any time in the list of topics in the right column.
It's so much fun getting to know your blogs and your stories!
___________________________
Here are a few more pictures from this past weekend's trip to Manteo.
As seen in the parking lot of a restaurant we stopped at:
Huntin' Dawgs (Please note. It is NOT "hunting dogs.")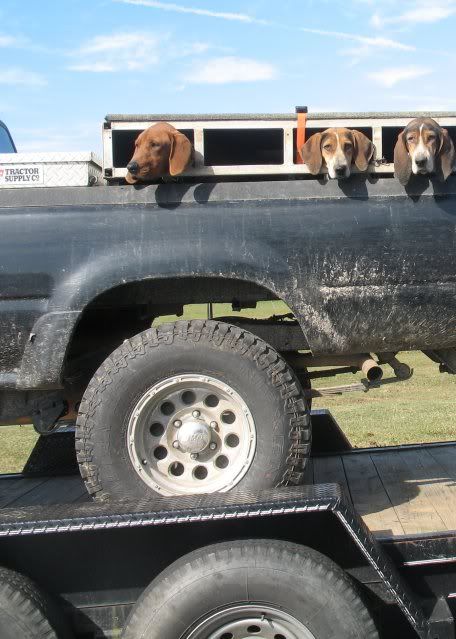 As seen in the front seat of our van:
Spoiled Doggy (Please note. It is NOT "spoilt dawg.")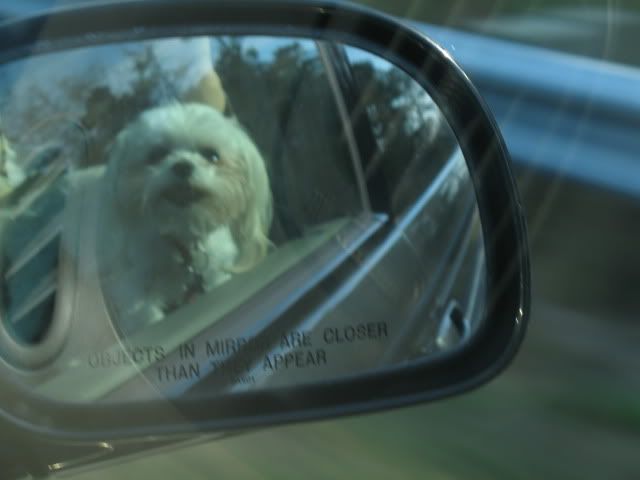 The sights that welcomed us to Manteo

Our view as we left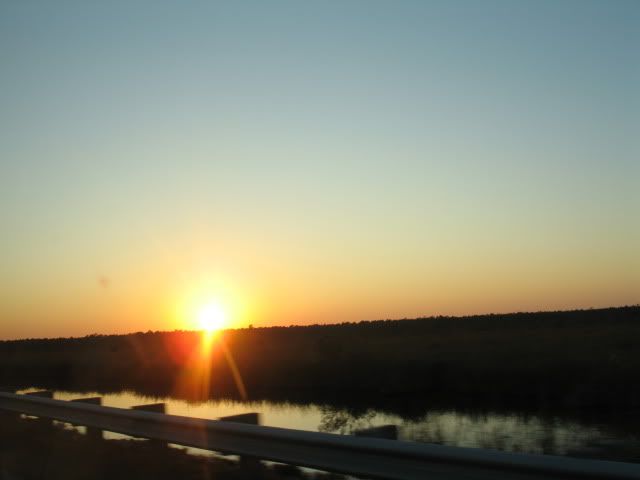 As you can tell, Sarah was very by impressed the lovely scenery!
Questions and Answers
Q. I'm curious to know what physical aspect of your Smithfield house you will miss/not miss the most and what you are excited about the most with the house in Manteo. --Danette
A. Danette, that's a great question with multiple answers!
1. The master bath in our current house has only one sink and the house in Manteo has two sinks. I am so excited about getting to have my very own personal, femininely stocked, non-shared sink. During 28 years of marriage, Steve and I have only had double sinks for about a year so this is Really Big Stuff!
2. The house in Smithfield has a lovely, fenced backyard and we've gotten a bit spoiled being able to just let Snowy out the back door (in all kinds of weather) to do his business.
In Manteo, there is no fence so we will have to join the rest of the world's dog walkers and actually put him on a leash and take him out to the yard. Sigh. Eventually we'd like to put a fence up but that will be down the road a little bit.
3. And speaking of "down the road," our house in Manteo is only about a 4-minute walk to a thrift store! That's a very good feature.
4. Our Smithfield house has huge closets and tons and tons of cupboard/pantry space. The house in Manteo? Not so much. I'm trying to figure out what I can get rid of and pare down so that we can easily fit into the storage areas of the new house.
5. The house in Smithfield has a 2-car garage; the house in Manteo, just one. That means that "garage junk" will have to be squished a little bit, too.
6. The Manteo house has beautiful pillars in the dining room/living room area. I think those are so cool!
7. The best thing about the house in Manteo? It's the place where our hearts will be at home.

It doesn't get much better than that.