I was awakened at 5:20 AM by a certain white fluffy dog who was yipping from his kennel with the greatest of white fluffy dog enthusiasm. Sigh.

So . . . since Snowy and I are both up, we figured we'd just settle into our Writing Recliner and get started on a post.

As you can probably imagine, I have many stories and pictures to share from our trip to Wisconsin but there are things going on in terms of our future plans that I need to mention, as well. So for the next week or so, I'll just switch back and forth between the two subjects and try to get everything covered.

I had written in an earlier post that someone came to look at our house last week. We heard back from her yesterday (via the realtor) and she said that although she loved the house, she has decided to buy another one instead because 1) it is closer to her church 2) it is all on one floor 3) it has granite counter tops.

Points one and three, I can certainly understand. However, point two is leaving me feeling a bit befuddled. The description of our house states very plainly that it has two stories. If someone is looking for a house on one floor, why would they look at a two story house?

If nothing else, this whole housing journey will certainly teach us a good bit of patience!

And speaking of patience, I'm sure a few of you have been waiting to hear about what's been going on with our church situation. As you know, we were on the coast of North Carolina August 15-17. On Sunday morning, we preached and sang at a church on the
Outer Banks.
Although it was a church without a pastor, we were not really there in an official tryout capacity; instead, we were just asked to go and look over the situation and see if it might be something we'd be interested in.

The church had a lot going for it in terms of creative outreach; they hold tent church services on the beach all summer for vacationers and they also have an incredible ministry to the many international students who come to the coast for the summer to work.

We had lunch with one of the students who was from the Ukraine. Being the curious family we are, we asked him to write out his Cyrillic alphabet for us which was so fascinating to learn about. He kept on apologizing for his English and we kept on saying, "Look. You speak English a lot better than any of us speak Ukraine!"

Here he is with Sarah at the restaurant.




As we left the restaurant, I saw these birdhouses and just fell in love with them.
Another sight I glimpsed was this fella who was studiously ignoring the birdhouses in order to devote himself more fully to examining this car.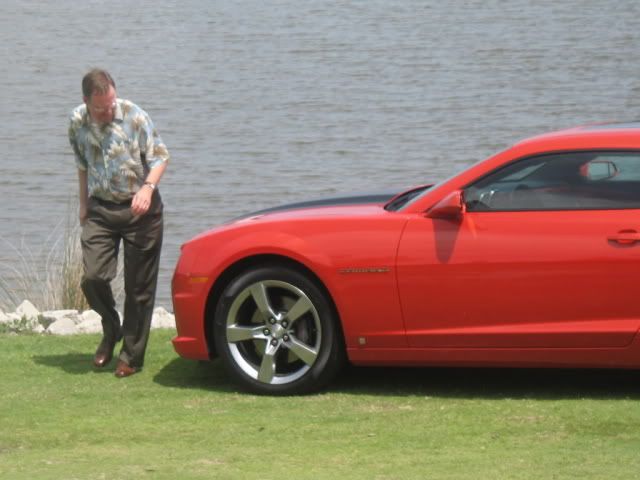 Steve is one of the world's most enthusiastic "car lookers;" if there is an interesting car within fifty miles, he will make the time to stop and examine it. And comment on it. And wish he could drive it.

At any rate, we enjoyed our weekend stay at the Outer Banks but have chosen not to return to that church for an "official tryout."

On Sunday afternoon, we drove across the bridge from the Outer Banks to Roanoke Island, an 8-mile long island famous for The Lost Colony. Roanoke Island has two small towns--Wanchese on one end and Manteo on the other.

Our destination was Manteo, an absolutely charming village.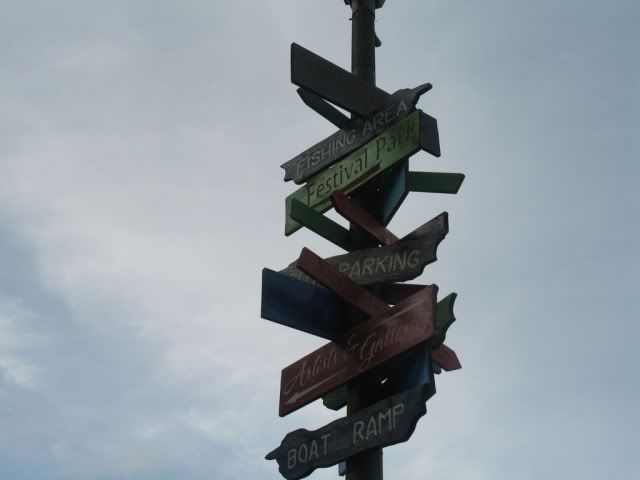 We were put up in a gorgeous hotel.




Steve is re-doing the "fancy folded point" on the toilet paper roll so that Sarah and I can enjoy the experience for ourselves.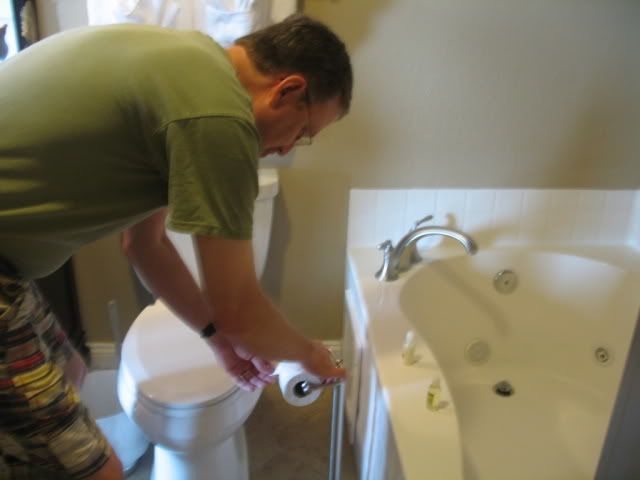 Showing off the deluxe coconut lime verbena soap. (We don't get out much.)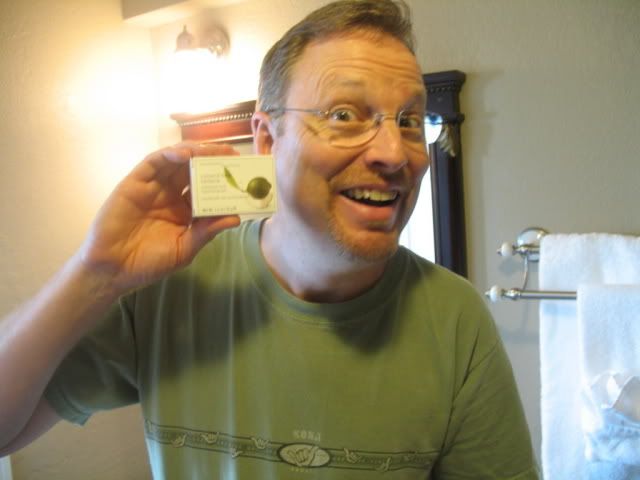 The resident writer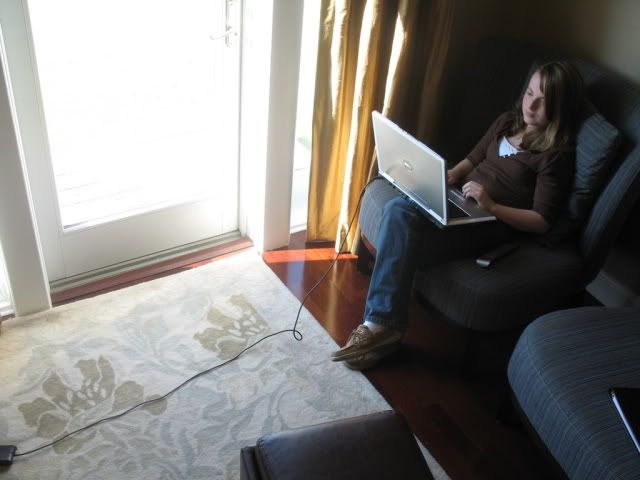 We thoroughly enjoyed touring the town and discovering its many charms and impressive features, including a High School that is in the top seven percent of all schools in the nation.


As I wrote earlier, our interview with the Pulpit Search Committee in Manteo went very well and we are now working on a possible date to return to the town for Steve to preach in a service.


Although I can't say I have ever pictured myself living so far from "civilization," the beauty and charm of Manteo go a long way toward convincing me that I would enjoy living there. It is such a different place than the towns across the bridge on the Outer Banks. (Manteo is located between the Outer Banks and the mainland of North Carolina.) As soon as you get to the Outer Banks, it begins to look a lot more touristy with chain restaurants and t-shirt shops but the Manteo
leaders have worked very hard to keep the small town charm of Manteo intact. That dedication shows up around every corner.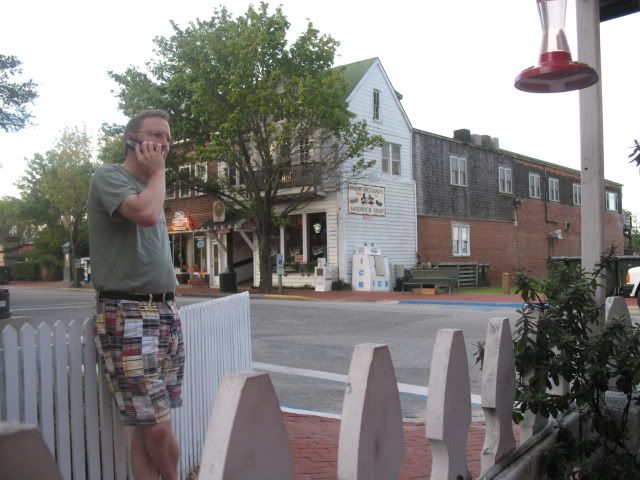 After reading all of this, you're probably thinking that things appear to be coming together quite well. And they are. But we suddenly have a Plan B to consider.

Just as he was leaving for Wisconsin, Steve got a call from a church in the central part of the state that he had sent a resume to about two months ago. We hadn't heard anything back from them (apart from the acknowledgement that they received the resume) and so we had crossed them off our list of possibilities.

As it turns out, however, after their pulpit search committee went through the piles of resumes they received, Steve landed among their top choices. They are now requesting that he send them a sample of his preaching which means that we could be going there for a tryout, as well.
Could life be any more interesting?