Today I'm going to take you along with me on yet another leg of the The Wisconsin Journey. And lest you think that all Wisconsin Journey stories are sad, I am hereby going to tell you a funny Wisconsin Journey story.

Well, at least it was funny to me.

Last Thursday night, I was at Mom's house and I needed to borrow a car from someone to run an errand. I was going to use Debbie's car until I realized that it didn't have an automatic transmission. I have driven a manual transmission once or twice in my life, and it was not pretty.

The only other vehicle remaining at the house at that particular moment was my nephew Ben's car, which looks like THIS.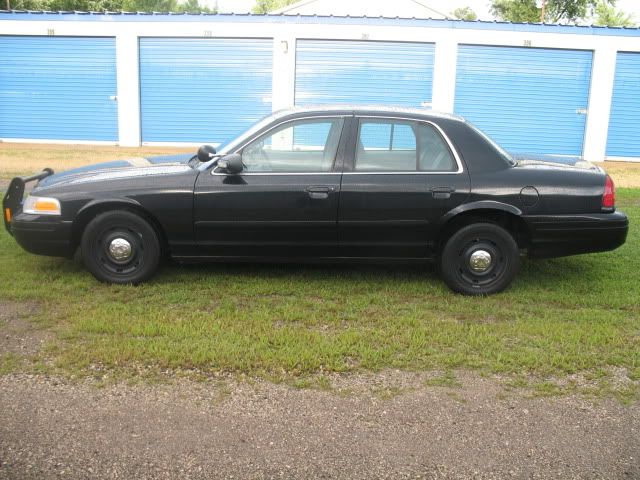 Do you see the spotlight near the driver's door side mirror? Do you see the black painted hubcaps? Do you see the bar "thingie" over the grill? Do you see that the front of the car says, "Interceptor?" Did you notice that it's a Crown Vic? Do you think that the vehicle looks like a former police car?

Well, it IS a former police car.

It is a car that just SCREAMS, "This vehicle is only to be driven by a person who is young, cool and male." It does NOT in any way, shape or form scream, "This car should be driven by a 47-year old, semi-stodgy, carb-inhaling, pastor's wife from North Carolina."

I went outside and stared at the car. It stared back at me from behind its menacing, police car headlights. My brother, Mark (Ben's dad), came out to observe the staring contest.

After a few minutes he said, "I bet you're too dignified to drive that car."

I thought to myself, "Yeah. I really don't have any strong yearning to drive a souped up Interceptor with black hub cabs around town."

But then I thought, "What could be better in life than to prove a big brother wrong?"

So I said to him, "Of COURSE I want to drive this car. Throw me the keys!"

Once he got over his shock, he passed the keys over to me. I managed to get behind the wheel without too much drama and get the car started. I could see out of the corner of my eye that Mark was still smirking happily at the thought of his introverted, dignified little sister even sitting in that macho car, let alone driving it.

And then I had a thought.


The thought flashed through my mind in an instant and I knew it was the absolute perfect thing to do. Because how often does one get to step briefly outside ones' persona and do something unexpected?

I knew that Mark was expecting me to slowly creep out into the street and drive away with a dainty dollop of delicate decorum.

So what did I do instead?

Well, first of all, I shifted into neutral and revved the engine a few times. Loudly.

I glanced out of the corner of my eye and saw Mark grinning in delighted disbelief.

And then? Well then, I slammed the car into drive and squeaked the tires as I pulled out!

I was so proud of myself. What other pastor's wife do you know who was out last Thursday night, squeaking the tires on a Crown Vic Interceptor with black hub cabs?

After my impressive "squealing away departure," I drove (a little more sedately) for a couple miles to a nearby convenience store. As soon as I pulled in to the parking lot, it was clear that a couple guys had noticed my arrival.


They stared at the car. Then they stared at me. Then they stared at the car again.

I could hear their thoughts as easily as if they had shouted them out loud.

"WHAT in the world is THAT woman doing driving THAT car?"

You know what?
I was asking myself the same question.

But it was still a really fun thing to do.


Here I am, trying to put on my serious, tough, cool expression. Are you intimidated yet?

And just so you know that Ben comes by his love of "interesting" cars naturally, here's a look at the back of Mark's car.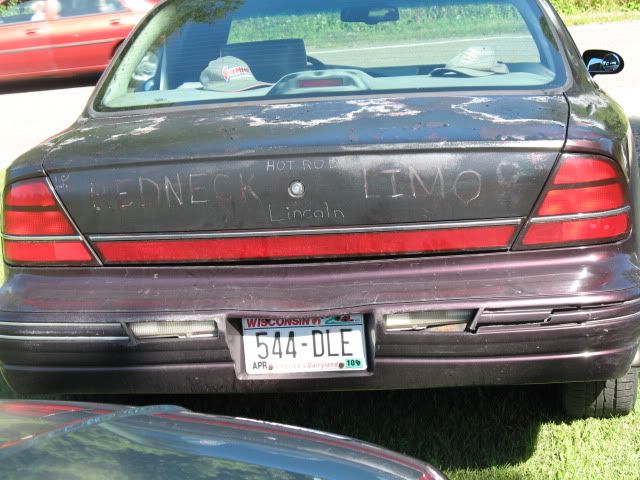 Yessiree. My big bro drives a Redneck Limo and Hot Rod Lincoln.

And guess what? I am now an honorary member of "Mark and Ben Club," since I, yes even I, have morphed from a mini van mama into a redneck woman!
Well, at last I was a redneck woman for a few minutes.
Today, however, I'm back to my mini van.

And I'm okay with that.

Really, I am.


________________________


Alright, let me put aside my redneckedness for a moment and talk about some other things . . .

This morning I sat and read and re-read all the comments that you all have left in recent days. I've been comforted, challenged and inspired by hearing your stories and experiences. Thanks to each one of you who has shared a piece of your heart on this site. I LOVE hearing from you!

I think that today I may actually get out of my pajamas and attempt to get on with my life. I'm a little behind the eight ball in getting Sarah started with school since the last couple weeks of life have been a bit challenging.

So today is crunch time. Whether I feel like it or not, I will do the mound of paperwork that has to be done and get Sarah going on her placement tests. The school she's enrolled in officially starts on September 3rd, but they said we could start a little later than that, due to our unexpected travel and the funeral.

So since I really do need to get a lot of stuff in the mail today, there will be no more lolling about. (Well, at least until tomorrow.)

Hmm. I think I could write a song about that, in "Annie" style.

Tomorrow, I'm lolling
Tomorrow I'm lolling
You're only a day away

Groan. Yes, I know that was bad.


I'm going now.