I know, I know. I promised that I would post a recipe today. Unfortunately, I'm going to have to renege on that promise.

I am NOT posting a recipe. I lied yesterday. I blatantly misled you, just so that you would come back and see what the recipe was. I wanted you to be driven back to the site by curiosity. By an incurable case of culinary curiosity! I am so bad! Bad mama!

Repeat. I am not posting even one recipe today.

I am posting two recipes!

Yes, indeedy. Today you get two recipes for the price of one! Never let it be said that you don't get your money's worth here at Smithellanous.

Shall we proceed?

The first recipe is the Apple Bean Bake. I have been making this for at least ten years and we absolutely love it. In fact, it's one of Nathan's favorite recipes.
Before I post it, though, I have to tell you a story about it. Sarah saw the recipe card sitting on the counter yesterday and she picked it up and stared at with great curiosity. (You can tell how well loved a recipe is by how many stains are on the card.)

She finally looked at me quizzically and said, "Was this card written on a real typewriter? Where you had to slide the card in and hit the return handle and hear the 'ding' and everything?"

Let me just tell you that at that very moment, I felt rather old. Rather ancient. Rather dinosauric. I felt like I was part of a museum exhibit.

"Yes, ladies and gentlemen. Over here we have a recipe card from the late 20th century that was actually typed. On a typewriter!"

And everyone would ooh and ahh about the fossilized technology and move on to the next exhibit.

I am from the typewriter era. Sigh.

Okay, on to the recipe. (Originally typed on a real typewriter. By an ancient typist. Me.)
Apple Bean Bake

48 oz. can of beans (Cooked, brown beans in a can--either called "baked beans" or "pork and beans. I remove the pork before using in the recipe.
4 T. butter or margarine
2 large cooking apples cubed (3 C)
1/2 C brown sugar
1/4 C white sugar
1/c C ketchup
1 t. each of cinnamon, molasses and salt (If you don't happen to have any molasses on hand, I think the recipe would still be fine.)

1. In large skillet, melt butter, add apples and cook until tender.
2. Add brown and white sugar, stir until sugar is melted.
3. Stir in ketchup, cinnamon, molasses and salt.
4. Add beans. Mix well.
5. Pour into 2 quart casserole and bake for about one hour at 400 degrees. Serves 6-8

(Can easily be halved or doubled; if halving, be sure to decrease cooking time a little.)


Here are a few photos to illustrate the process, featuring my lovely cooking assistant, Sarah, and her lovely cooking assistant, Snowy.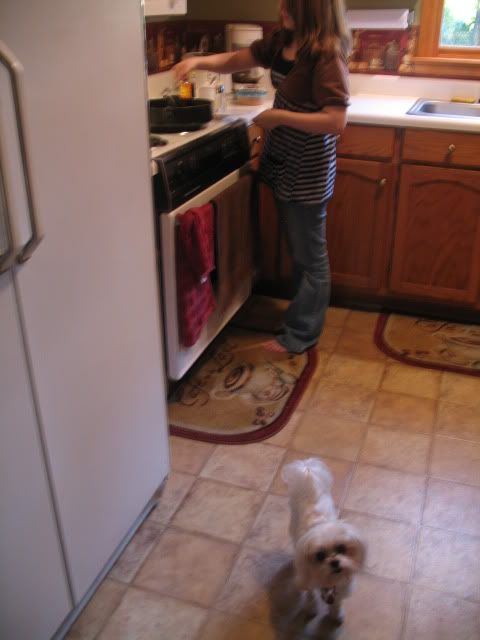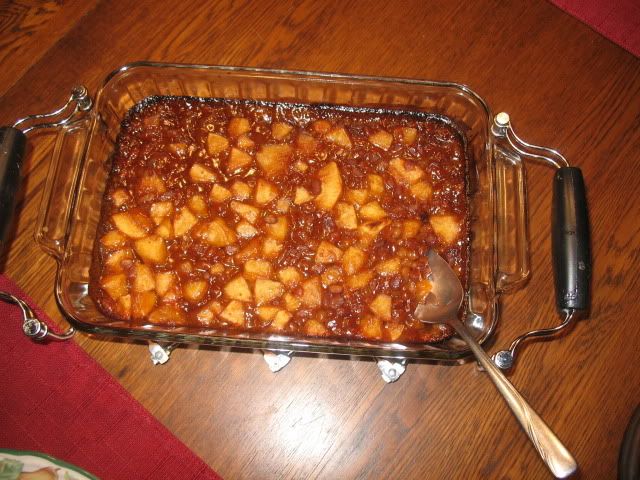 And now for the second recipe which I stole from Facebook, where it had been posted by my friend, Leeanne.


Butter Knots

This is a very complicated recipe, which will require 4-5 hours of your time. It has multiple steps which are enormously complex and require much mental trauma.

So! Are you ready?

1. Open a can of Pillsbury bread sticks
2. Knot them and bake as directed
3. Meanwhile, saute garlic in a stick of butter
4. When knots are done, brush ALL the butter on the knots
5. Sprinkle with parsley and Parmesan cheese

Whew! How exhausting can one recipe be? You are now all given permission to go and take a nap. That will give the butter in the recipe more of a chance to become permanently adhered to your hips.

One additional note about this recipe: I used the minced garlic that comes in the jar. It's a little bit easier. Also, I just used a half stick of butter because I already have too much "stuff" adhering to my hips. However, I'm sure the knots would be extra delectable with a whole stick.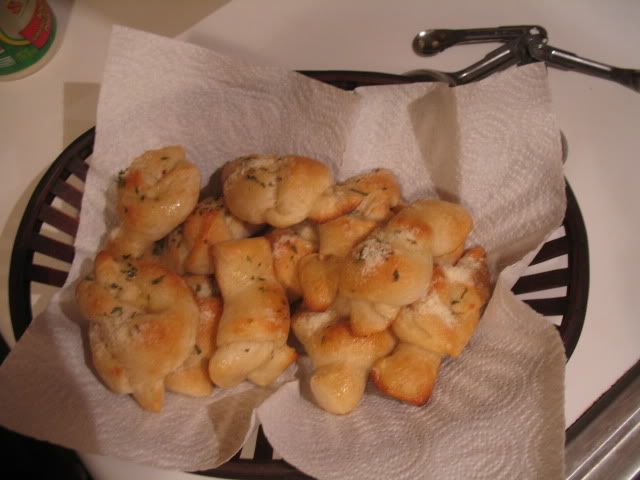 And now? Now you get to see a picture of the two recipes as part of a meal. Is this exciting, or what? Chicken on the grill, baked beans, and rolls. What could be better?

Well, except brownies for dessert. With pecans on top. And ice cream. Yum.




And that concludes Becky's Cooking Class for the Day. I hope you enjoy these recipes as much as the Smith family has.
_______________________
Melissa asked about the photo editing site that makes the "cool" pictures like I posted yesterday. Two of them are: photofunia.com or loonapix.com And prepare to become instantly addicted when you go there!
_____________________
Anonymous asked (concerning the rug conundrum I wrote about yesterday):
Tell us more about the couch and the colors that are in it and maybe we can help with the rug decision. Do you want the rug to be the focal point of the room? Do you want it to coordinate or contrast? Will there be art on the walls? What about the lighting-both natural and artificial? Does Steve work best in a calm environment or does it need to be lively? Just a few things to think about. Have you looked at Home Depot yet?
I just have to say that we should have had her along on our shopping expeditions. What great questions and things to consider! We're making a sort of final decision today and will certainly be asking those questions.
____________________________
Tomorrow afternoon, Steve's parents will arrive. And tomorrow evening (or more like Saturday morning about 1 or 2 am) Nathan and Meagan will get here.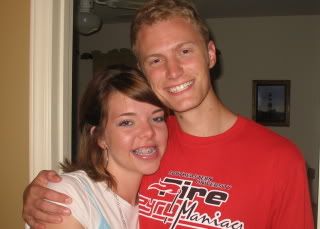 Saturday, we will all take off for Manteo in an Official Smith Convoy.
Good times!