Well. Here I am.

Overdue for a post.

Under due

for a comforting Little Debbie cake.

Overdue for a nap.

Under due

for some (thrift) shopping therapy.

Overdue for filling some boxes with stuff.

Under due

for a day just to stare at the ceiling and be in My Happy Place.

Under. Over. Whatever. I'm here. That's what counts.

You're here. And I'm so glad!

If you weren't here, I'd be writing endless blog posts to myself and that would be so boring since I already know what I'm going to write about and therefore I already know what I'm going to read about. (yawn) So thanks for being here!

We got an email from the realtor who showed the house this morning but there was no comment made so we have no idea how that showing went. We're hoping to hear this week from the people who were interested last week.

Wednesday, our house in

Manteo

will undergo a major inspection so that any red flags can be uncovered before Moving Day. Hopefully that will turn out with well without too many alarming finds.

And speaking of

Manteo

, we were there part of the weekend without Sarah so we decided to go on an exciting date. Would you like to hear the details?

No? Yes? Well then, here we go!
First we went to the church to do a little work. (I told you this was going to be exciting.) Part of the work included putting the letters on the sign out in front of the church.
I felt for all the world like I was on a TV quiz show and was about to say, "Vanna, I would like to buy a vowel." (And by the way, I hadn't washed my hair or done much to my face, so I apologize in advance for any "

scaryness

" involved in this photo.)
I was working on one side of the sign and Steve was working on the other side. It was

soooo

romantic to peak around the sign occasionally and catch a glimpse of my consonant-placing date.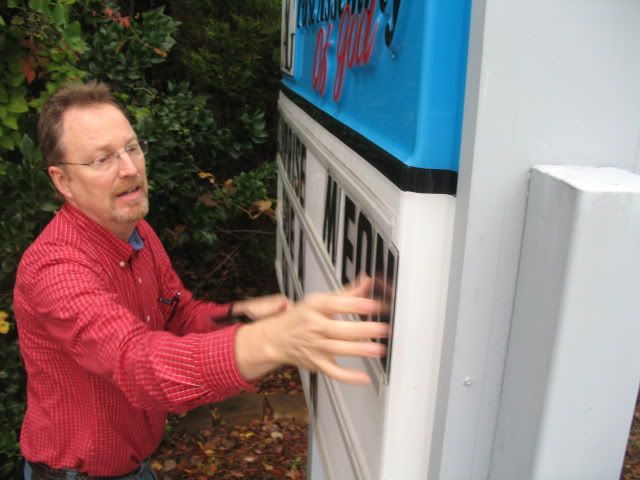 Here is our finished product. (Steve's sermon was based on the Scripture, "Blessed are the peacemakers.")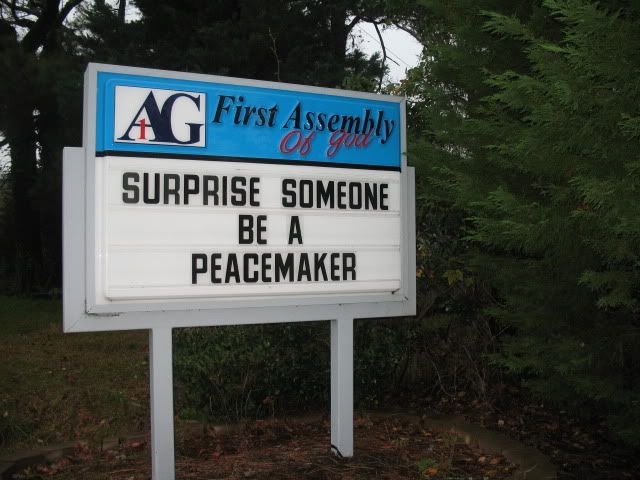 From there, it was off to Ace Hardware to purchase a few church supplies. We hadn't yet been to

Manteo's

hardware store so it was quite a big moment for us. (Steve is as much a connoisseur of hardware/home supply stores as I am of thrift stores. If you can, indeed even be a connoisseur of a thrift store. Sounds

oxymoronic

, somehow.)
Anyway. . .
We walked into the hardware store and I immediately fell in love with their little Ace Hardware baskets. I was pushing mine all around cooing, "Oh, how cute is this?"
Steve decided to take a picture of my "walking, pushing, cooing" self. Unfortunately, he was laughing so loudly at my antics that in the first picture he caught me in the middle of saying, "

Shhhhhh

!"
Here is the unattractive shape of my mouth when I am caught in the midst of a "

shhhh

" moment.
And here is my "

unshhhhh

" moment.
As I said, the little baskets were so darling, the way they sat on the carts. You could either pick up the basket and carry it on its own or leave it on the cart. But I was so in love with the cart, there was no way I would have left it behind and just carried the basket.
Just. Way. Too. Cute. (And my two male readers are now rolling their eyes.)
From that exciting moment, we drove back to the church to "install" a few of the things we bought. And then it was on to a romantic walk on the beach.
Under a gray, overcast sky. Bundled up in coats. Surrounded by flooding, and broken buildings, and erosion.
Not exactly the picture for the front of tourism brochure but still, it had its own beauty.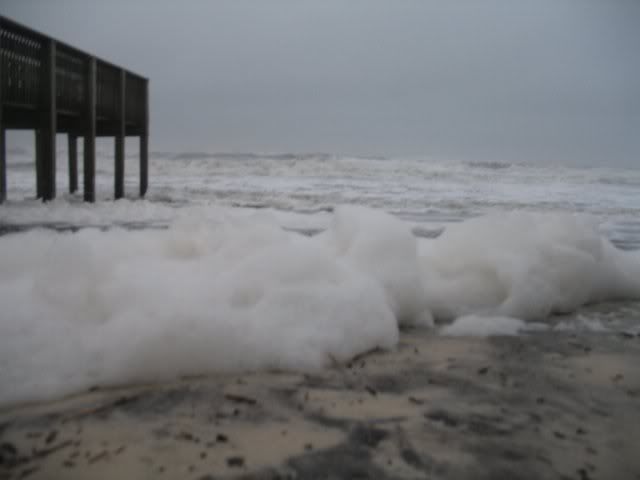 Next on the agenda was a drive down to the harbor front downtown area of

Manteo

where we ate at this wonderful restaurant.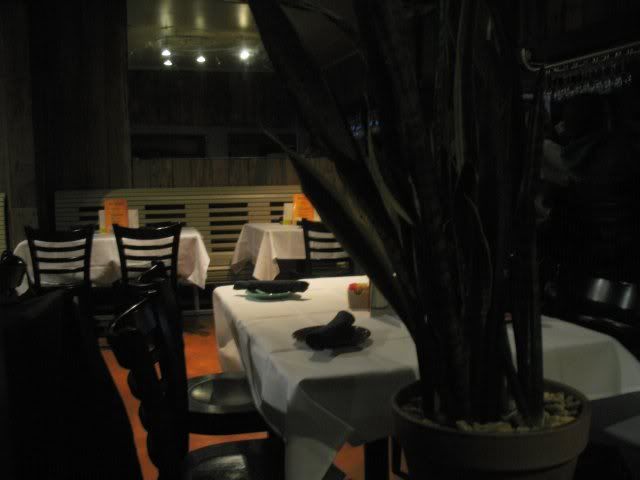 Their tortilla chips were homemade and incredibly delicious. If you ever go to

Manteo

, go order their chips. If fact, even you're not even planning on going to

Manteo

, go anyway just so you can eat those chips. You will not be sorry.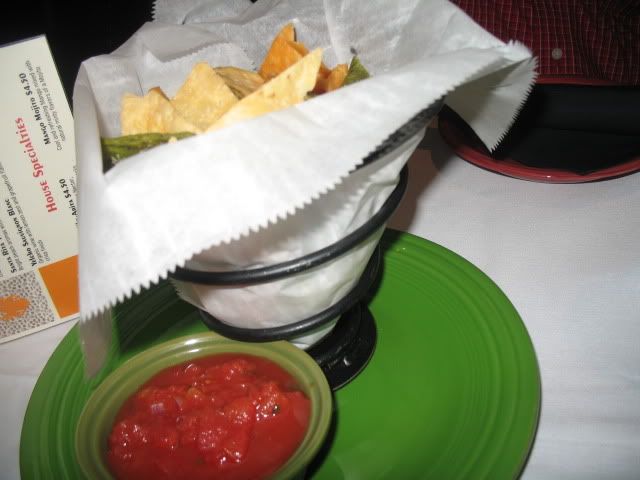 We split an entree and got out for a very reasonable price which made our bargain

lovin

' hearts very happy.
And then? Then it was on to the local coffee shop so that I could get Internet access to post a

pre

-written blog entry.
I must say that this little spot is one of my favorite places in all of

Manteo

. We met the owner when we went in Saturday night and introduced ourselves. She was getting the place ready to host a trio of musicians who were coming in a little later to do a concert. What a lovely, quaint and creative part of our new town!
From there, it was back to our borrowed cottage where we spent about 45 minutes working on a chord chart for the Sunday morning rehearsal.
And that was it. The weird date. The fun date. The memorable date. The Steve and Becky Smith-style date.
DO try this at home.